Environment and Society: A Critical Introduction (Critical Introductions to Geography) (Paperback)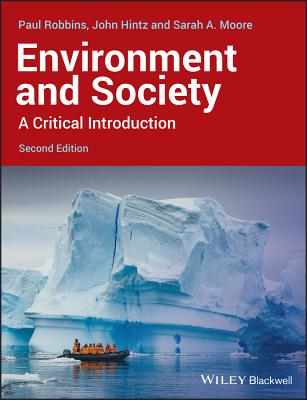 This item is not available.
Description
---
Substantially updated for the second edition, this engaging and innovative introduction to the environment and society uses key theoretical approaches to explore familiar objects.
Features substantial revisions and updates for the second edition, including new chapters on E waste, mosquitoes and uranium, improved maps and graphics, new exercises, shorter theory chapters, and refocused sections on environmental solutions
Discusses topics such as population and scarcity, commodities, environmental ethics, risks and hazards, and political economy and applies them to objects like bottled water, tuna, and trees
Accessible for students, and accompanied by in-book and online resources including exercises and boxed discussions, an online test bank, notes, suggested reading, and website links for enhanced understanding
Offers additional online support for instructors, including suggested teaching models, PowerPoint slides for each chapter with full-color graphics, and supplementary images and teaching material
About the Author
---
Paul Robbins is Professor and Director of the Nelson Institute for Environmental Studies, University of Wisconsin-Madison. His research interests include understanding human-environment systems, the influence non-humans have on human behavior and organization, and the implications these interactions hold for ecosystem health, local communities, and social justice. He is the author of Political Ecology: A Critical Introduction (2nd edition, Wiley Blackwell, 2012) and Lawn People: How Grasses, Weeds, and Chemicals Make Us Who We Are (2007). John Hintz is Associate Professor of Environmental, Geographic, and Geological Sciences at the Bloomsburg University of Pennsylvania. His current research focuses on land-use conflicts, environmental policy, and the US environmental movement. He has published in a number of journals, including Capitalism Nature Socialism and Ethics, Place & Environment. Sarah A. Moore is Assistant Professor in the Department of Geography at the University of Wisconsin-Madison. Her research focuses on urban development politics, urban environmental issues, and environmental justice inthe United States and Latin America. Her publications include articles in numerous journals including Progress in Human Geography, The Professional Geographer, and Society and Natural Resources.