Hacking for Dummies (Paperback)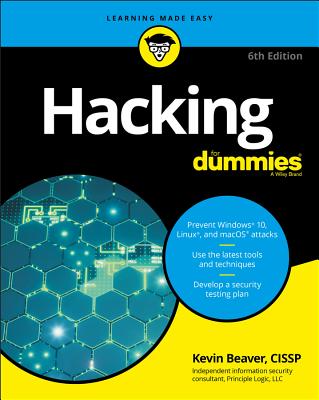 This item is not available.
Description
---
Stop hackers before they hack you
In order to outsmart a would-be hacker, you need to get into the hacker's mindset. And with this book, thinking like a bad guy has never been easier. In Hacking For Dummies, expert author Kevin Beaver shares his knowledge on penetration testing, vulnerability assessments, security best practices, and every aspect of ethical hacking that is essential in order to stop a hacker in their tracks.
Whether you're worried about your laptop, smartphone, or desktop computer being compromised, this no-nonsense book helps you learn how to recognize the vulnerabilities in your systems so you can safeguard them more diligently--with confidence and ease.
Get up to speed on Windows 10 hacks
Learn about the latest mobile computing hacks
Get free testing tools
Find out about new system updates and improvements
There's no such thing as being too safe--and this resourceful guide helps ensure you're protected.
About the Author
---
Kevin Beaver is an independent information security consultant with more than three decades of experience. Kevin specializes in performing vulnerability and penetration testing and security consulting work for Fortune 1000 corporations, product vendors, independent software developers, universities, and government organizations. He has appeared on CNN and been quoted in The Wall Street Journal.