The Bogleheads' Guide to the Three-Fund Portfolio: How a Simple Portfolio of Three Total Market Index Funds Outperforms Most Investors with Less Risk (Hardcover)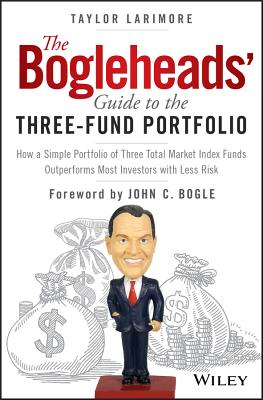 Description
---
Twenty benefits from the three-fund total market index portfolio.
The Bogleheads' Guide to The Three-Fund Portfolio describes the most popular portfolio on the Bogleheads forum. This all-indexed portfolio contains over 15,000 worldwide securities, in just three easily-managed funds, that has outperformed the vast majority of both professional and amateur investors.
If you are a new investor, or an experienced investor who wants to simplify and improve your portfolio, The Bogleheads' Guide to The Three-Fund Portfolio is a short, easy-to-read guide to show you how.
About the Author
---
TAYLOR LARIMORE is a sage on the Boglehead forums for everyone who wants to discover "the Boglehead way." Crowned the "King of the Bogleheads" by Jack Bogle, he has spent more than seven decades in finance and investing, in such positions as revenue officer for the IRS, chief of the Financial Division for the Small Business Administration in South Florida, and a director of the Dade County Housing Finance Authority. He is co-author of The Bogleheads' Guide to Investing and The Bogleheads' Guide to Retirement Planning.