Penny Stocks for Dummies (Paperback)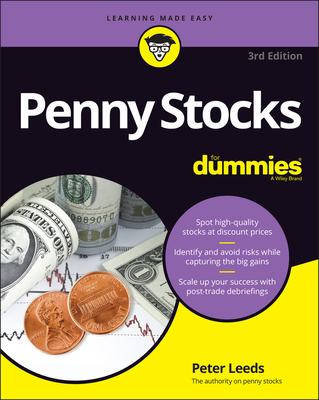 Description
---
Want big returns? Look at small stocks
Penny stocks are low-cost equities that often make large price moves, potentially leading to big gains--or losses--for investors. Penny Stocks For Dummies will help you determine whether this wild ride is right for you. With this hands-on guide, you can grasp the basics, find smart investments, avoid scams, and look for big success, even if you only have pocket change to start out with.
This latest edition takes you right into today's unique penny stock market. You'll learn how to read penny stock charts, evaluate the strength of small companies, recognize price manipulations, and use smart trading strategies to maximize your returns. Buying and selling penny stocks can be extremely lucrative--if you know exactly what you're doing. This book will make a penny trader out of you, so you can start making money for the future. (Heads up: you're going to need a bigger piggy bank )
With Penny Stocks For Dummies, you will:
Find out whether penny stocks are a good fit for your investment goals, available capital, and risk tolerance
Do your due diligence and learn how to research potential penny stock investments
Use fundamental analysis, financial ratios, and penny-specific technical analysis to identify winning bets
Uncover expert tips that will boost your results and help prevent big losses
Penny Stocks For Dummies will give you the knowledge and confidence you need to get in on the ground floor and discover those hidden gems for high rewards.
About the Author
---
Peter Leeds, also known as The Penny Stock Professional, is the publisher of Peter Leeds Penny Stocks, a popular financial publication with over 50,000 subscribers. He is also the author of Invest in Penny Stocks.