The NFT Handbook: How to Create, Sell and Buy Non-Fungible Tokens (Paperback)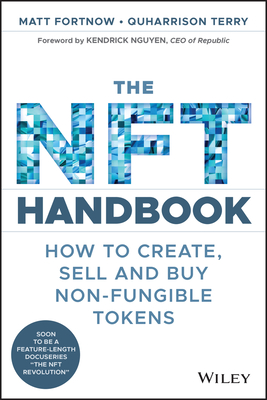 Description
---
Learn how to create and profit from NFTs


The NFT Handbook
is a detailed guide on how to create, sell and buy non-fungible tokens without the need for a technical background. Learn exactly what NFTs are, how they evolved, and why they have value.
We'll delve into the different types and aspects of NFTs and discuss the different NFT marketplaces and the pros and cons of each.
Create Your Own NFTs Step by step instructions on all aspects of NFT creation, including what types of content to use, where to source content, adding artistic design, writing the NFT's description, adding optional unlockable content and setting an optional ongoing royalty.
Mint Your NFTs You'll learn the process of how to get your NFTs on the blockchain.
Sell Your NFTs We'll go through the whole process including creating a collection, and the different options such as setting a price or starting an auction.
Buy NFTs What you'll need to bid on and purchase NFTs, and how to avoid getting scammed.
You'll also get a primer on blockchain, particularly the Ethereum cryptocurrency and "gas" fees. You'll also be shown step by step how to create, secure and fund your own cryptocurrency wallet, where you'll store your NFTs and cryptocurrency.
Whether you're experienced with the blockchain and crypto or a complete noob (beginner),
The NFT Handbook
will guide you in the process of creating, minting, selling and buying NFTs.
About the Author
---
MATT FORTNOW is an entertainment lawyer turned tech entrepreneur. He co-authored the 7th edition of This Business of Music then co-founded the web's first fantasy sports service, which he sold to CBS Sports. The past several years Matt dove into blockchain technology, cryptocurrencies, and non-fungible tokens. QUHARRISON TERRY is a growth marketer and entrepreneur. Co-Founder of 23VIVI, the world's first digital art marketplace powered by the Bitcoin blockchain, he is a 4x recipient of LinkedIn's Top Voices in Technology Award. He currently leads Growth Marketing at Mark Cuban Companies.