Soil Nitrogen Uses and Environmental Impacts (Advances in Soil Science) (Hardcover)
×
Warning message
Mean Menu style requires
jQuery
library version 1.7 or higher, but you have opted to provide your own library. Please ensure you have the proper version of jQuery included. (note: this is not an error)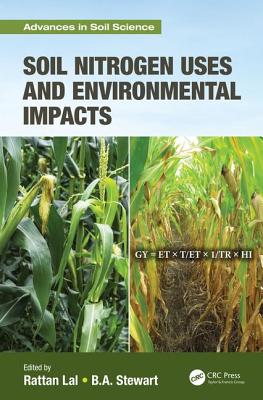 Description
---
Nitrogen (N) is potentially one of the most complex elements on the Earth. It is necessary for all biological activity, but creates negative impacts on water and air quality. There is a balancing act between deficiency and surplus and the forms of N available further complicate our understanding of the dynamics. Biological fixation provides some plants with N supply while others are totally dependent upon N being available in the soil profile for the roots to extract. Nevertheless, the demand for N will increase because the human population with its increasing growth requires more protein and thus more N. Understanding the global N cycle is imperative to meeting current and future nitrogen demands while decreasing environmental impacts.
This book discusses availability, production, and recycling of N in air, water, plants, and soils. It features information on N impacts to soil and water quality, management of N in agroecosystems, and techniques to maximize the use efficiency while minimizing the risks of leakage of reactive N into the environment.
This volume in the Advances in Soil Science series is specifically devoted to availability, production, and recycling of N with impact on climate change and water quality, and management of N in agroecosystems in the context of maximizing the use efficiency and minimizing the risks of leakage of reactive N (NO-3, N2O) into the environment.
About the Author
---
Rattan Lal, Ph.D., is a Distinguished University Professor of Soil Science and Director of theCarbon Management and Sequestration Center, The Ohio State University, and an Adjunct Professorat the University of Iceland. His current research focus is on climate-resilient agriculture, soil carbonsequestration, sustainable intensification, enhancing use efficiency of agroecosystems, and sustainablemanagement of soil resources of the tropics. He received honorary degrees of Doctor of Sciencefrom Punjab Agricultural University (2001), the Norwegian University of Life Sciences, Aas (2005), Alecu Russo Balti State University, Moldova (2010), Technical University of Dresden, Germany(2015), and University of Lleida, Spain (2017). He was president of the World Association of the Soiland Water Conservation (1987-1990), the International Soil Tillage Research Organization (1988-1991), the Soil Science Society of America (2005-2007), and is President Elect of International Unionof Soil Science. He was a member of the Federal Advisory Committee on U.S. National Assessmentof Climate Change-NCADAC (2010-2013), member of the SERDP Scientific Advisory Board ofthe US-DOE (2011-), Senior Science Advisor to the Global Soil Forum of Institute for AdvancedSustainability Studies, Potsdam, Germany (2010-), member of the Advisory Board of Joint ProgramInitiative of Agriculture, Food Security and Climate Change (FACCE-JPI) of the European Union(2013-), and Chair of the Advisory Board of the Institute for Integrated Management of MaterialFluxes and Resources of the United Nations University (UNU-FLORES), Dresden, Germany (2014-2017). Prof. Lal was a lead author of IPCC (1998-2000). He has mentored 106 graduate students and54 postdoctoral researchers, and hosted 156 visiting scholars. He has authored/co-authored 818 refereedjournal articles, has written 19 and edited/co-edited 65 books. For 3 years (2014, 2015, 2016), Reuter Thomson listed him among the world's most influential scientific minds and having citationsof publications among the top 1% of scientists in agricultural sciences.B.A. Stewart, Ph.D., is Director of the Dryland Agriculture Institute and a distinguished professorof Agriculture at West Texas A&M University, Canyon, Texas. He is a former director ofthe USDA Conservation and Production Laboratory at Bushland, Texas; past president of the SoilScience Society of America; and member of the 1990-1993 Committee on Long-Range Soil andWater Policy, National Research Council, National Academy of Sciences. He is a fellow of the SoilScience Society of America, American Society of Agronomy, Soil and Water Conservation Society, a recipient of the USDA Superior Service Award, a recipient of the Hugh Hammond Bennett Awardof the Soil and Water Conservation Society, and an honorary member of the International Unionof Soil Sciences in 2008. In 2009, Dr. Stewart was inducted into the USDA Agriculture ResearchService Science Hall of Fame. Dr. Stewart is very supportive of education and research on drylandagriculture. The B.A. and Jane Ann Stewart Dryland Agriculture Scholarship Fund was establishedat West Texas A&M University in 1994 to provide scholarships for undergraduate and graduatestudents with a demonstrated interest in dryland agriculture.