Bug Music: How Insects Gave Us Rhythm and Noise (Paperback)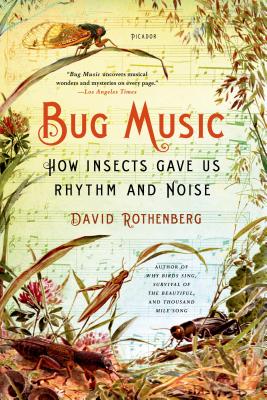 $20.00

Usually arrives at our store within 4-7 days
Description
---
In the spring of 2013, the cicadas in the Northeastern United States emerged from their seventeen-year cycle—the longest gestation period of any animal. Those who experienced this great sonic invasion compared their sense of wonder to the arrival of a comet or a solar eclipse. This unending rhythmic cycle is just one unique example of how the pulse and noise of insects has taught humans the meaning of rhythm, from the whirr of a cricket's wings to this unfathomable and exact seventeen-year beat.

Bug Music is the first book to consider the radical notion that we humans got our idea of rhythm, synchronization, and dance from the world of insect sounds that surrounded our species over the millions of years over which we evolved. Bug Music continues Rothenberg's in-depth research and spirited writing on the relationship between human and animal music, and it follows him as he explores insect influences in classical and modern music, plays his saxophone with crickets and other insects, and confers with researchers and scientists nationwide.

This engaging and thought-provoking book makes a passionate case for the interconnectedness of species.
About the Author
---
Philosopher and jazz musician David Rothenberg is professor of philosophy and music at the New Jersey Institute of Technology and the author of Survival of the Beautiful, Why Birds Sing, and Thousand Mile Song. He lives in the Hudson Valley, New York.
Praise For…
---
"Bug Music uncovers musical wonders and mysteries on every page." —Los Angeles Times

"A wonderful amalgam of what we appreciate about insects." —The Wall Street Journal

"An enchanting foray into the polyrhythmic swirls of the entomological soundscape." —Nature

"Bug Music encompasses an incredible breadth of scale, from the great…to the very, very small." —The Wire

"Engaging and thought-provoking." —The Guardian

"How could anyone fail to love a book filled with such fascinating details?" —The Globe and Mail (London)

"Bug Music is a cool groove of biology, music, and human culture from an interspecies musician and scholar fully in tune with nature. It is engaging, wide-ranging, and profound in suggesting that the thrum of insects is a primordial musical beat. This book is for everyone who has ever marveled at nature or delighted in the sounds of her insect choirs, and especially for those who have done neither." —John Marzluff, author of Dog Days, Raven Nights and Gifts of the Crow

"I loved this book. It's inspiring, fascinating, and funny. Bug Music is a foray into another world." —Bernd Heinrich, author of Mind of the Raven and Winter World

"Fabulous entomological jazz: David Rothenberg draws together disparate strands of inspiration and writes a new song, full of unexpected riffs and harmonies. Bug Music is a thought-provoking celebration of the acoustic bonds between humans and our insect cousins." —David George Haskell, author of The Forest Unseen

"Charmingly conversational, filled with wondrous facts and touching personal reflections, Bug Music will make you think differently about bugs, about music, and about the intersection of the two." —Marlene Zuk, author of Sex on Six Legs and Paleofantasy

"A veritable tour de force of delightful and provocative meanderings that circle about, crisscross, and combine to illuminate the primal connection between insect sound and the human sense of rhythm, music, and noise." —Lang Elliott, musicofnature.com, author of The Songs of Insects

"As a musician and a scientist, I was fascinated by the parallels between the songs of the cicada and the human. Rothenberg is a great conductor in Bug Music, bringing out the melodies and harmonies, and exposing the mysteries, in the great insect orchestra that surrounds us. A must read for all who question and seek our place in nature." —Daniel Chamovitz, author of What a Plant Knows

"In the author's words, 'We are all connected through the vast music of life.' Rothenberg's engaging prose not only inspires us to seek those connections, but to open our ears to the music of insects, to whose tune we all may be dancing." —John Himmelman, author of Cricket Radio

"David Rothenberg is like the Greil Marcus of nature. No one writes about the sounds of the wild so smartly, so evocatively, so beautifully. Bug Music is tremendous." —Tom Bissell, author of Chasing the Sea and Magic Hours

"Like all of David Rothenberg's books Bug Music is great fun, but the fun also points to something deeper--the subtle chemistry all earth's organism's share and the truth that we humans are no exception. Finding the sheer delight of participating in the hum-drum excitement of nature is a gift and Bug Music points us that direction. And, there is good science here too!" —Kurt Johnson, co-author of Nabokov's Blues and The Coming Interspiritual Age.

"Rothenberg raises thoughtful questions about the nature of music and our ability to communicate with other species. The author's wide-ranging musical interests--from Renaissance madrigals and John Cage to electronica and katydids--together with his playful, almost romantic approach to the subject helps engage general readers, balancing the book's more technical material." —Publishers Weekly