Ruin and Rising (The Shadow and Bone Trilogy #3) (Paperback)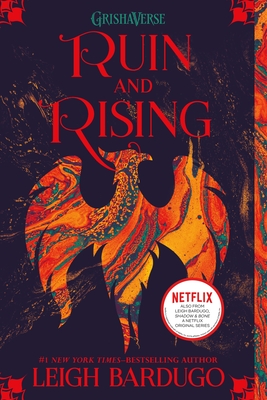 Other Books in Series
This is book number 3 in the The Shadow and Bone Trilogy series.
Description
---
See the Grishaverse come to life on screen with the Netflix series, Shadow and Bone. Daring rogue Nikolai finally joins the fold in Season 2 -- covering explosive events of both Siege and Storm and Ruin and Rising -- streaming now!

Enter the Grishaverse with Book Three of the Shadow and Bone Trilogy by the #1 New York Times–bestselling author of Six of Crows and Crooked Kingdom.

Soldier. Summoner. Saint. The nation's fate rests with a broken Sun Summoner, a disgraced tracker, and the shattered remnants of a once-great magical army.

The Darkling rules from his shadow throne while a weakened Alina Starkov recovers from their battle under the dubious protection of the zealots who worship her as a Saint. Now her hopes lie with the magic of a long-vanished ancient creature and the chance that an outlaw prince still survives.

As her allies and enemies race toward war, only Alina stands between her country and a rising tide of darkness that could destroy the world. To win this fight, she must seize a legend's power—but claiming the firebird may be her ruin.

A New York Times Bestselling Series
A USA Today Bestseller
This title has Common Core connections.

Read all the books in the Grishaverse!

The Shadow and Bone Trilogy
(previously published as The Grisha Trilogy)
Shadow and Bone
Siege and Storm
Ruin and Rising

The Six of Crows Duology
Six of Crows
Crooked Kingdom

The King of Scars Duology
King of Scars
Rule of Wolves

The Language of Thorns: Midnight Tales and Dangerous Magic
The Severed Moon: A Year-Long Journal of Magic
The Lives of Saints
Demon in the Wood Graphic Novel

Praise for the Grishaverse

"A master of fantasy." —The Huffington Post
"Utterly, extremely bewitching." —The Guardian
"This is what fantasy is for." —The New York Times Book Review
"[A] world that feels real enough to have its own passport stamp." —NPR
"The darker it gets for the good guys, the better." —Entertainment Weekly
"Sultry, sweeping and picturesque. . . . Impossible to put down." —USA Today
"There's a level of emotional and historical sophistication within Bardugo's original epic fantasy that sets it apart." —Vanity Fair
"Unlike anything I've ever read." —Veronica Roth, bestselling author of Divergent
"Bardugo crafts a first-rate adventure, a poignant romance, and an intriguing mystery!" —Rick Riordan, bestselling author of the Percy Jackson series
About the Author
---
Leigh Bardugo is a #1 New York Times bestselling author and the creator of the Grishaverse (now a Netflix series) which spans the Shadow and Bone trilogy, the Six of Crows duology, The Language of Thorns, and the King of Scars duology—with more to come. Her other works include Wonder Woman: Warbringer and Ninth House (Goodreads Choice Winner for Best Fantasy 2019). She lives in Los Angeles and is an Associate Fellow of Pauli Murray College at Yale University.
Praise For…
---
"The magic Bardugo invents will surprise and delight readers." —The Horn Book

"Readers won't be able to turn the pages fast enough to the conclusion that will generate much discussion." —Booklist

"Once again, Bardugo is a master at building an action-packed fantasy with extraordinary world-building and complex characters . . . Fans of the first two books will not be disappointed." —School Library Journal

"Triumphant . . If opener Shadow and Bone was a magical coming-of-age story and middle-volume Siege and Storm was a political thriller, then this third book is an epic quest. . . Every time readers may think she's written herself into a corner, Bardugo pulls off a twist that, while surprising, will keep them turning pages furiously." —Kirkus Reviews, starred review

"Mesmerizing. . . . Bardugo's set up is shiver-inducing, of the delicious variety. This is what fantasy is for." —The New York Times Book Review on Shadow and Bone

"This is one book series you want to get hooked on." —Seventeen.com on Shadow and Bone

"Shadow and Bone was unlike anything I've ever read. Alina is a clever, sympathetic character I will gladly follow into the next installment--which can't come soon enough!" —Veronica Roth, New York Times bestselling author of Divergent, on Shadow and Bone

"This is just my kind of fantasy--rich, satisfying, and gorgeous, laced with heart-pounding action and pitch-perfect romance. The characters . . . are layered and complex. I'll be thinking about it for a good long time." —Cinda Williams Chima, bestselling author, on Shadow and Bone

"Fast-paced and unpredictable, this debut novel will be a hit with readers who love dark fantasy. . . . Bardugo creates a unique world complete with monsters, magic, danger, romance, corruption, and extravagance." —School Library Journal, starred review on Shadow and Bone

"Filled with lush descriptions, intriguing magic, and plenty of twists, this memorable adventure offers action and intrigue mixed with an undercurrent of romance and danger." —Publishers Weekly on Shadow and Bone

"Bardugo weaves a captivating spell with lushly descriptive writing, engaging characters, and an exotic, vivid world. Readers will wait impatiently for the next installment." —Booklist on Shadow and Bone

"Readers will be rooting for this lonely, tough heroine as she navigates perils physical, magical, and emotional." —The Bulletin on Shadow and Bone

"A rich fantasy landscape, an inspired magical structure, and a gratifying emotional hook keep the pages whirring." —The Horn Book on Shadow and Bone

"A heady blend of fantasy, romance, and adventure." —Rick Riordan, author of the bestselling Percy Jackson series, on Siege and Storm

"Completely engrossing." —Romantic Times on Siege and Storm

"Scheming and action carry readers at a breathless pace . . . and will definitely leave them panting for the series' conclusion." —Kirkus Reviews on Siege and Storm

"Richly crafted . . . an engaging wish-fulfillment fantasy." —The Horn Book on Siege and Storm

"[Readers will be] tapping their feet impatiently for the concluding volume." —Booklist on Siege and Storm