The New Wild West: Black Gold, Fracking, and Life in a North Dakota Boomtown (Hardcover)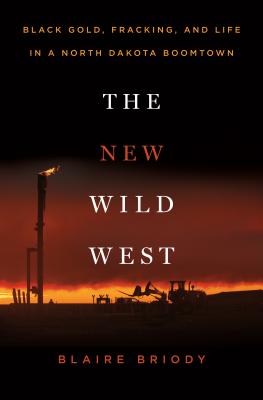 Description
---
Williston, North Dakota was a sleepy farm town for generations—until the frackers arrived. The oil companies moved into Williston, overtaking the town and setting off a boom that America hadn't seen since the Gold Rush. Workers from all over the country descended, chasing jobs that promised them six-figure salaries and demanded no prior experience.

But for every person chasing the American dream, there is a darker side—reports of violence and sexual assault skyrocketed, schools overflowed, and housing prices soared. Real estate is such a hot commodity that tent cities popped up, and many workers' only option was to live out of their cars. Farmers whose families had tended the land for generations watched, powerless, as their fields were bulldozed to make way for one oil rig after another.

Written in the vein Ted Conover and Jon Krakauer, using a mix of first-person adventure and cultural analysis, The New Wild West is the definitive account of what's happening on the ground and what really happens to a community when the energy industry is allowed to set up in a town with little regulation or oversight—and at what cost.
About the Author
---
BLAIRE BRIODY is an award-winning journalist and editor-at-large for The Fiscal Times. She has written for The New York Times, Popular Science, Popular Mechanics, Fast Company, Glamour, among others. The New Wild West was the 2016 finalist for the Lukas Work-in-Progress Award from Columbia Journalism School and Harvard's Nieman Foundation, and she received the Richard J. Margolis Award for emerging journalists in 2014. She graduated from UC Davis with a degree in international relations.
Praise For…
---
"A fascinating look at what can happen when one area becomes a hot spot of activity with no regulation or oversight." —The New York Post

"Briody, winner of the Richard J. Margolis Award for social justice reporting, tells the fascinating stories of people in pursuit of their piece of the oil boom. There's triumph and heartbreak in this blend of reportage, profiles, and personal essay." —Booklist (starred review)

"A fascinating tale about which I knew next to nothing. The characters in the new wild west are as complex and riveting as Wyatt Earp and Billy the Kid." —A.J. Jacobs, New York Times bestselling author

"Blaire Briody was on the ground during the epic fracking boom in Williston, North Dakota and The New Wild West provides a fascinating portrait of the times, the people, the community, and the 21st century quest for the American dream." —C.J. Box, #1 New York Times bestselling author

"You can feel the shale dust sticking to your body when you read Blaire Briody's fascinating account of living in a North Dakota oil boomtown. You can smell the sulfides in the drinking water and see the fear in the eyes of the women whose men can't handle the drugs and alcohol that make their words too sharp and their fists too powerful. It's Briody's detailed reporting of the place, the people and their passions that make this book so special. This is a binge read." —Jacqueline Leo, former Editor in Chief, Reader's Digest

"The same furious forces that shattered the Bakken Shale and unleashed one of the most explosive oil booms in history also fractured the lives of many who were drawn to it. Insightful, deeply reported, and at times heartbreakingly personal, Blaire Briody's The New Wild West brings us face to face with the walking wounded of America's domestic energy boom—the preacher fallen from grace, the young couple struggling to hold their family together, the roughnecks and drivers who all came looking for that most elusive of natural resources, a second chance. It's a must-read." —Seamus McGraw, author of The End of Country: Dispatches from the Frack Zone

"The North Dakota oil rush brought a wave of prosperity and a load of human trouble to a previously-gentle frozen backwater of the United States. Blaire Briody tells the story with fearlessness and compassion and gets inside the lives of truck drivers, pastors, roughnecks and modern-day American migrants trying to cope with a bonanza and its aftermath. This is first-rate reporting, with a novelist's sensibility." —Tom Zoellner, author of Train: Riding the Rails that Created the Modern World, from the Trans-Siberian to the Southwest Chief

"Nothing decodes a place in time like a great reporter on the ground. With elegance, incisiveness and heart, Blaire Briody weaves snapshot stories of those recession refugees attracted to and affected by the North Dakota oil boom. With Briody as your guide, you'll see, feel, and understand the motives, choices, and challenges that defined the New Wild West." —Adam Skolnick, author of One Breath: Freediving, Death and the Quest to Shatter Human Limits

"Briody shows a remarkable talent for explaining the societal shifts wrought by the new American oil boom through individual stories. Where others might cite statistics and be done with it, she applies a human touch, and the impact of her work is greater for it. This is timely, necessary stuff." —Sarah Stodola, author of Process: The Writing Lives of Great Authors