Dead Soon Enough: A Juniper Song Mystery (Juniper Song Mysteries #3) (Hardcover)
×
Warning message
Mean Menu style requires
jQuery
library version 1.7 or higher, but you have opted to provide your own library. Please ensure you have the proper version of jQuery included. (note: this is not an error)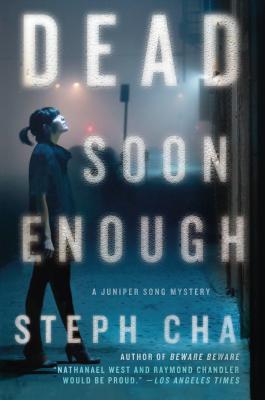 Other Books in Series
This is book number 3 in the Juniper Song Mysteries series.
Description
---
From critically acclaimed author Steph Cha-Los Angeles-based P.I. Juniper Song is back in a thrilling story about heritage and responsibility, motherhood and genocide.

Finally a licensed private detective, Steph Cha's "compelling and original" (LA Times) crime heroine Juniper Song is managing her own cases as the junior investigator of Lindley & Flores. When a woman named Rubina Gasparian approaches Song, she knows she's in for her most unusual case yet. Rubina and her husband Van-both Armenian-American doctors-cannot get pregnant, so Rubina's younger cousin, Lusig, is acting as their surrogate. However, Lusig's best friend Nora has been missing for a month, and Rubina is concerned that her nearly eight-month-pregnant cousin is dealing with her stress in a way that could harm the baby. Rubina hires Song to shadow her and report all that she finds. Of course, Lusig is frantically searching for Nora, and Song's case soon turns into a hunt for the missing woman, an activist embroiled in an ugly, public battle over the erection of an Armenian genocide memorial. As Song probes the depths of both the tight-knit Armenian-American community and the groups who antagonize it, she realizes that Nora was surrounded on all sides by danger. But can she find out what happened before it's too late for Nora or Rubina and Van's child-or for Song herself?

A gorgeously written, tightly plotted, and emotionally charged read, Dead Soon Enough is an unforgettable story of what we will do for the things we believe in, and the people we love, perfect for fans of Lisa Unger and Tana French.
About the Author
---
STEPH CHA is the author of Follow Her Home, Beware Beware, and Dead Soon Enough. Her writing has appeared in The L.A. Times, The L.A. Review of Books, and Trop Magazine. A graduate of Stanford University and Yale Law School, she lives in her native city of Los Angeles, California.
Praise For…
---
"Cha wins the reader's sympathies for her L.A. PI at the outset of her outstanding third Juniper Song mystery... Veronica Mars fans will be pleased." —Publishers Weekly, starred review

"Song's realism, cynicism and penchant for getting herself into bad situations endear her readers...This noir is easy to read, paced well and keeps readers engaged through the very end." —RT Book Reviews (4 stars)

"Los Angeles private eye Juniper Song is hired to tail an Armenian American surrogate mother who's frantically looking for her best friend, a missing activist."—Los Angeles Times, "Holiday Books: 56 fabulous works of fiction and poetry"

"In her private detective, Cha has created a worthy modern entrant into classic L.A. noir fiction. An excellent choice for fans of Sue Grafton—Song shares many traits with Grafton's Kinsey Millhone, including doggedness, earnestness, and pragmatism."—Library Journal

"This is another example of Cha's grasp of L.A. noir, depicting a world in which truth is bent and compromises made with impunity" —Booklist

"Before this cautionary tale is over, secrets will be revealed, lies within lies told, more people injured or killed and Song's core values compromised in ways that will have psychological reverberations for years, and books, to come. Nathanael West and Raymond Chandler would be proud." —LA Times on Beware Beware

"Engaging… Song soon becomes caught in a complex plot involving deception, betrayal, and revenge. Cha follows noir conventions, with Daphne as femme fatale and Song forced into morally ambiguous choices, but she also offers a plucky heroine, warm secondary characters, and a vivid portrait of L.A.'s Koreatown." —Publishers Weekly on Beware Beware

"In her second outing, Korean Song defies the stereotype of the Asian American woman, working to overcome her background and what she suffered in Cha's debut, Follow Her Home (2013), and facing a formidable moral dilemma in the process. This is prime L.A. noir with a feminist slant." —Booklist on Beware Beware

"Enjoyable… a part-mystery, part-thriller that'll keep you turning the pages." —Mochi Mag on Beware Beware

"In what is a great sequel to Follow Her Home, Cha's prose is more developed and her plot more creative… In adrenalin-fueled prose, Juniper solves the latent mystery behind Tilley's demise, but closure leaves a bitter taste in her mouth. In the process, she becomes much darker, more reflective, more cynical and ruthless. Cha lays down a slippery slope of lying, deceit and brutality, the pain of the past balanced against Juniper's resilience in the face of death." —CurledUp.com on Beware Beware

"Cha's handle on the core genre element of detection is top-notch. Indeed, you are effectively pulled into this labyrinthine narrative precisely because of the desire to know. The threads all do resolve in one way or another and the noir-ish ending shows us how murky the line between heroes and villains can be." —AsianAmLitFans.livejournal.com on Beware Beware

"[Song] is a compelling and original protagonist… One only hopes that Cha and her driven, neo-noir detective have more opportunities to explore those troubling intersections over many books to come." —LA Times on Follow Her Home

"Engrossing… Steph Cha's intriguing debut Follow Her Home works as a testament to the power of storytelling and a cautionary tale against forsaking reality for fiction…Cha elevates Follow Her Home with glimpses at the culture of Korean-American families." —Oline Cogdill, South Florida Sun Sentinel, on Follow Her Home

"Cha's debut updates Marlowe's dark and dangerous LA to modern times while keeping the quirky characters and a twisty mystery that will hold readers to the bitter end." —Kirkus on Follow Her Home

"Intriguing...it's clear that Song, a chain-smoking, hard-drinking, and nourish young woman with a Raymond Chandler fixation is well on her way to being a first-rate investigator." —Publishers Weekly on Follow Her Home

"For fans of urban noir and of mysteries that address contemporary social issues. Cha is a promising mystery author to watch." —Library Journal on Follow Her Home

"Many try to emulate Raymond Chandler; few succeed. Put Cha in the latter category…. [she] has that certain something that makes you want to follow Song on her next adventure." —RT Book Reviews on Follow Her Home

"Follow Her Home's strength is in the creation of a relatable, dynamic, modern protagonist… Cha has penned a well-written, atmospheric text. But Follow Her Home is also a gritty tale that serves up social commentary on cultural fetishization." —KoreAM Magazine on Follow Her Home

"While Cha pays very clear homage to Chandler -- indicated in the enthusiastic use of similes and Juniper often wondering what Marlowe would do -- she definitely transcends his influence to make the story her own… Cha does a great job of keeping the suspense taut, with deft pacing and effective cliff-hangers. Action pushes the plot resolutely forward -- whether Juniper is getting knocked out in the middle of the night or finding her bed chillingly made by someone other than herself. And Juniper herself is a likeable character with a distinct voice." —Hyphen Magazine on Follow Her Home

"Follow Her Home is a brilliant, modern twist to the classic noir genre; full of clever prose that invites and excites the reader's attention. You won't want to miss a single, incisive word. In Juniper Song Cha has created a bold, intelligent heroine who makes her way through the secrets and twists, admirably filling her literary idol's shoes." —Elizabeth Haynes, New York Times bestselling author of Dark Tide, on Follow Her Home

"Stephanie Cha's brilliant debut is as Noir as Old Nick's sense of humour. Compelling from first to last page, she takes on contemporary L.A., sweeping the reader through Chandler's twilight, heartbroken city from mansions to faux K-town hostess bars. L.A. Noir at its finest." —Denise Mina, author of The Dead Hour, on Follow Her Home

"Follow Her Home takes a fresh trip down the sunny, dark streets of Los Angeles, and Juniper Song is a great guide - young, sharp, and worldly-wise. Keenly observed and deeply felt, the story slowly got under my skin. I couldn't put it down." —Meg Gardiner, Edgar Award-winng author of Ransom River, on Follow Her Home

"Though we live in a world where our public spaces are clean and well-lit and monitored by security cameras, Steph Cha knows that bright lights cast dark shadows. The streets Juniper Song has to walk may not seem as mean as Philip Marlowe's, but Marlowe didn't have to walk in four-inch stiletto heels, and Cha finds plenty of unsettling stuff happening in contemporary Los Angeles: at after-parties in the expensive apartments of trust-fund twenty-somethings, behind closed doors in the offices of white shoe law-firms, and in sketchy nightclubs where champagne and vodka aren't the only things on the bottle-service menu. A sharp, clever and affecting debut." —Daniel Friedman, Edgar nominated author of Don't Ever Get Old, on Follow Her Home

"Sharp and stylish as a Louboutin stiletto, Follow Her Home is a great read! Steph Cha brings a modern female voice and a smart sense of humor to the noir tradition. This is a writer to watch." —Allison Leotta, author of Speak of the Devil, on Follow Her Home

"In a glittery L.A. of pretty, privileged twentysomethings, Stephanie Cha's Follow Her Home opens like a playful homage to Raymond Chandler but deepens into something darker: an utterly 21st-century ode to sisterhood in the face of crime. A fast-paced thriller told in smart, sparkling prose, Follow Her Home is a moving exploration of mothers and daughters, men and women, immigrant history, loss, and hope." —Joy Castro, author of Hell or High Water, on Follow Her Home

"A gripping narrative voice that's as fun as it is funky, sharp, and evocative." —Tom Piccirilli, author of The Last Kind Words and The Last Whisper in the Dark, on Follow Her Home

"Follow Her Home reveals a writer keenly aware and inspired by the subgenre of American noir fiction…. Cha's debut novel would fit very well into any American detective fiction course and would especially pair well with Walter Mosley, in her exploration of race, ethnicity, and the urban metropolis known as Los Angeles." —asianamlitfans.livejournal.com on Follow Her Home