The Inheritance: A Charles Lenox Mystery (Charles Lenox Mysteries #10) (Paperback)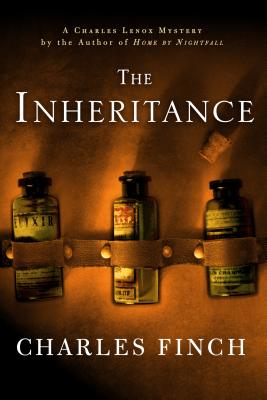 Other Books in Series
This is book number 10 in the Charles Lenox Mysteries series.
Description
---
A USA TODAY BESTSELLER

A mysterious bequest of money leads to a murder in the tenth entry in Charles Finch's critically acclaimed and bestselling Charles Lenox series, whose last installment The New York Times called "a sterling addition to this well-polished series."

Charles Lenox has received a cryptic plea for help from an old Harrow schoolmate, Gerald Leigh, but when he looks into the matter he finds that his friend has suddenly disappeared. As boys they had shared a secret: a bequest from a mysterious benefactor had smoothed Leigh's way into the world after the death of his father. Lenox, already with a passionate interest in detective work, made discovering the benefactor's identity his first case – but was never able to solve it.

Now, years later, Leigh has been the recipient of a second, even more generous bequest. Is it from the same anonymous sponsor? Or is the money poisoned by ulterior motives? Leigh's disappearance suggests the latter, and as Lenox tries, desperately, to save his friend's life, he's forced into confrontations with both the most dangerous of east end gangs and the far more genteel denizens of the illustrious Royal Society. When someone close to the bequest dies, Lenox must finally delve deep into the past to uncover at last the identity of the person who is either his friend's savior – or his lethal enemy.
About the Author
---
Charles Finch is the USA Today bestselling author of the Charles Lenox mysteries, including The Vanishing Man. His first contemporary novel, The Last Enchantments, is also available from St. Martin's Press. Finch received the 2017 Nona Balakian Citation for Excellence in Reviewing from the National Book Critics Circle. His essays and criticism have appeared in the New York Times, Slate, Washington Post, and elsewhere. He lives in Los Angeles.
Praise For…
---
"A detailed and engrossing murder plot . . . a skillfully drawn social portrait of the late 1800s . . . Finch conjures the palpable excitement of the day over such groundbreaking developments as the telegraph and electricity, as England—and the rest of the world—stand on the brink of great change." —BookPage.com

One of The Strand Magazine's Best Mysteries of 2016

"A refined historical mystery that glows with intelligence.. . . So absorbing is Finch's work that his fans might imagine that they are reading it by gaslight in a fashionable London square as horse-drawn carriages pass by." —Richmond Times-Dispatch

"A series as polished as British sterling . . . Charles Finch never ceases to amaze readers with wit and mighty good storytelling." —Bookreporter.com

"The special pleasure of this series, beyond the mysteries Finch concocts, is how nicely he sets his stories against the background of Victorian England. It's one of the more enjoyable history lessons you'll come across. . . . As crime series go, the Lenox novels are exceptionally civilized." —Washington Post

"The Inheritance is a well-thought-out mystery with ever-increasing stakes and bang-on details that bring the time to vivid life. An enjoyable read." —HistoricalNovel Society

"Finch impressively raises the stakes of this tale between tea settings, and his character development is top-notch." —Booklist

"Entertaining and evocative. . . . A sense of time and place heightened by Finch's elegant prose and characters this Dorothy Sayers fan adores." —Journal Sentinel

"As always, the characters and the Victorian setting are impeccable." —Library Journal

"The upper-class amateur sleuth, an endangered species even in historical mysteries, is very much alive in Charles Finch's charming Victorian whodunits." —The New York Times Book Review

"Finch is a clever plotter and assiduous researcher. Like Anthony Trollope, he is an insider's outsider. If you are a mystery addict seeking an escape hatch from the 21st century, check out this series by an elegant writer at the top of his form." —Seattle Times

"A thick, leisurely, British detective novel, studded with memorable characters like raisins in a fruitcake." —Hallie Ephron, The Boston Globe

"A delight! . . . It's a rare accomplishment to make a murder so charming and a detective so compelling. Bravo Mr Finch . . . more Lenox, please." —Louise Penny, author of A Great Reckoning