There are no products in your shopping cart.
A Map to the Sun (Hardcover)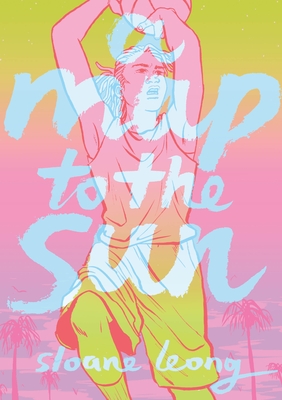 $24.99
We Can Order This For You
Description
---
A Map to the Sun is a gripping YA graphic novel about five principle players in a struggling girls' basketball team.

One summer day, Ren meets Luna at a beachside basketball court and a friendship is born. But when Luna moves to back to Oahu, Ren's messages to her friend go unanswered.

Years go by. Then Luna returns, hoping to rekindle their friendship. Ren is hesitant. She's dealing with a lot, including family troubles, dropping grades, and the newly formed women's basketball team at their high school.

With Ren's new friends and Luna all on the basketball team, the lines between their lives on and off the court begin to blur. During their first season, this diverse and endearing group of teens are challenged in ways that make them reevaluate just who and how they trust.

Sloane Leong's evocative storytelling about the lives of these young women is an ode to the dynamic nature of friendship.

*Lettering by Aditya Bidikar
About the Author
---
Sloane Leong is a self-taught cartoonist, artist and writer of Hawaiian, Chinese, Italian, Mexican, Native American and European ancestries. She explores themes of survival, displacement, relationships, spirituality, identity and mental illness through genres like science fiction, horror, adventure and slice-of-life. Her work aims to connect personally with individuals through storytelling and to cultivate a kinder, more understanding future. She has been self-publishing her own comics since she was 16 and has done various work for companies like Image Comics, First Second, Top Cow, Cartoon Network, DC, Dark Horse, Boom!, Namco and BuzzFeed. Recent projects include A Map to the Sun and Prism Stalker. She is currently living near Portland, Oregon.
Praise For…
---
"The pages' shifting layout maintains a dynamic pace while the artwork conveys the intense—often conflicting—emotions inherent to adolescence and young adulthood. Leong concludes with a tribute to the inner light of her characters and to the power of friendship."—Kirkus

"Extraordinary tension is created just through Leong's use of color, which shifts between unexpected and often intense color schemes that infuse skin color, backgrounds, and even the gutters with raw emotion."—Booklist

"Leong offers an intricate exploration of camaraderie, teamwork, friendship, and expression with a BIPOC cast of characters... A vivid explosion of color, this tale shines."—School Library Journal

"Leong elevates the classic ragtag-sports-team narrative by giving her characters grit and gravitas, and rendering their world of malls, convenience stores, and slumping apartment buildings in brilliant reds and purples."—Publisher's Weekly

"Leong has a great ear for teen dialogue, but her specialty is creating a mood that puts the reader inside the characters' heads... Color is Leong's most powerful tool, and she establishes bold color themes throughout the book that amplify the feeling on the page."—AV Club, a grade A review