The Pope: Francis, Benedict, and the Decision That Shook the World (Hardcover)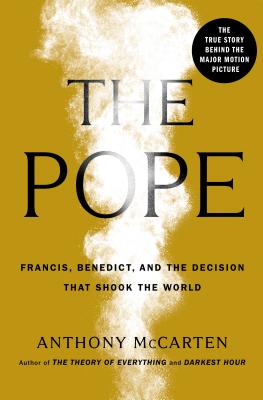 Description
---
THE STORY BEHIND THE SCREENPLAY OF THE TWO POPES, THE MAJOR MOTION PICTURE STARRING ANTHONY HOPKINS AND JONATHAN PRYCE

From the Academy Award-nominated screenwriter of The Theory of Everything and Darkest Hour comes the fascinating and revealing tale of an unprecedented transfer of power, and of two very different men - who both happen to live in the Vatican.

In February 2013, the arch-conservative Pope Benedict XVI made a startling announcement: he would resign, making him the first pope to willingly vacate his office in over 700 years. Reeling from the news, the College of Cardinals rushed to Rome to congregate in the Sistine Chapel to pick his successor. Their unlikely choice? Francis, the first non-European pope in 1,200 years, a one time tango club bouncer, a passionate soccer fan, a man with the common touch.

Why did Benedict walk away at the height of power, knowing his successor might be someone whose views might undo his legacy? How did Francis - who used to ride the bus to work back in his native Buenos Aires - adjust to life as leader to a billion followers? If, as the Church teaches, the pope is infallible, how can two living popes who disagree on almost everything both be right?

Having immersed himself in these men's lives to write the screenplay for The Two Popes, Anthony McCarten masterfully weaves their stories into one gripping narrative. From Benedict and Francis's formative experiences in war-torn Germany and Argentina to the sexual abuse scandal that continues to rock the Church to its foundations, to the intrigue and the occasional comedy of life in the Vatican, The Pope glitters with the darker and the lighter details of one of the world's most opaque but significant institutions.
About the Author
---
ANTHONY MCCARTEN is a New Zealand-born award-winning novelist, playwright, and screenwriter. He's written seven novels and twelve stage plays including Ladies' Night, which won France's Molière Prize in 2001, and Death of a Superhero. His screenplays The Theory of Everything and Darkest Hour each garnered worldwide critical acclaim and were nominated for multiple awards, winning three Oscars, three Golden Globes, and five BAFTAs between them. McCarten's most recent screenplay, The Pope, is soon to be a major motion picture.
Praise For…
---
"McCarten is a novelist and playwright (his screenplay version will soon become a feature film), and he instinctively accentuates the drama and intrigue in this strange but engaging story....McCarten tells the story as clearly as it has ever been told." - NPR