The Last Passenger: A Charles Lenox Mystery (Charles Lenox Mysteries #13) (Paperback)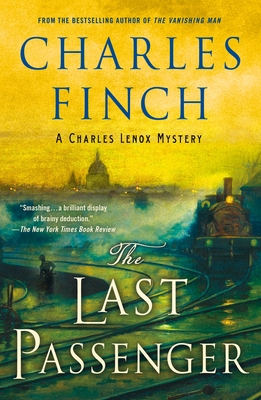 Other Books in Series
This is book number 13 in the Charles Lenox Mysteries series.
Description
---
"Bravo, Mr. Finch, and keep them coming! More Lenox, please." —Louise Penny, bestselling author of A Better Man

From bestselling author Charles Finch comes the third and final in a prequel trilogy to his lauded Charles Lenox series.

London, 1855. A young and eager Charles Lenox faces his toughest case yet: a murder without a single clue. Slumped in a third-class car at Paddington Station is the body of a handsome young gentleman. He has no luggage, empty pockets, and no sign of identification on his person. And putting together the clues to the mystery of the man's identity only raises more questions, when Lenox discovers that the crime has a significant connection to America.

As he seeks to solve this impossible case, the young Lenox must confront an equally troublesome problem in his personal life. Kitty Ashbrook, beautiful and cultured, appears to be his soulmate—but love comes with obstacles of its own. In tandem, this fiendish early case and passionate, deeply felt affair will irrevocably shape the brilliant detective and thoughtful gentleman Lenox is destined to become.

Written in Charles Finch's unmistakably witty and graceful voice, The Last Passenger is a cunning, thrilling, and deeply satisfying conclusion to this trilogy of prequels to his bestselling Charles Lenox series.
About the Author
---
Charles Finch is the USA Today bestselling author of the Charles Lenox mysteries, including The Vanishing Man. His first contemporary novel, The Last Enchantments, is also available from St. Martin's Press. Finch received the 2017 Nona Balakian Citation for Excellence in Reviewing from the National Book Critics Circle. His essays and criticism have appeared in the New York Times, Slate, Washington Post, and elsewhere. He lives in Los Angeles.
Praise For…
---
Praise for The Last Passenger:

"Smashing...That's the charm of Finch's style and [Lenox's] own manner of sleuthing — a brilliant display of brainy deduction...classy writing and beguiling details." —The New York Times Book Review

"No mystery writer except perhaps Anne Perry is as successful as Charles Finch at evoking the atmosphere of Victorian London." —The Washington Post

"Seriously satisfying." —AirMail

"Avid mystery readers will enjoy Lenox's thorough review of his sleuthing process…choose this if you revel in atmosphere." —Kirkus Reviews

"This tightly plotted mystery…is rich in historical detail…[Lenox] coming into his own as a detective is a delight." —Booklist

"Finch effectively integrates the politics of the time, including pre–Civil War tensions in America... a clever murder puzzle. Anne Perry and David Dickinson fans will be satisfied." —Publishers Weekly

"Finch's plotting is excellent, his characters well developed, but it is his prose that truly shines. He evokes the writing style of 19th-century English authors—Wilkie Collins jumps to mind—lending a degree of authenticity to the narrative found in comparatively few historical novels. Finch also incorporates then-contemporary international politics, especially the burgeoning abolitionist movement in the U.S., in this exceptional and atmospheric mystery." —Bookpage

"Atmospheric." —Seattle Times

"Finch smoothly integrates the era's politics, fashion, culture and views, including how American issues have infiltrated British society. [He] also cleverly delves into Lenox's personality, which has fueled this beloved series." —Florida Sun-Sentinel

"Finch outdoes himself in the latest Charles Lenox mystery…[he] superbly weaves facts, interesting historical tidbits and emotions in a book so rich one hates to see it end." —Cleveland Plain-Dealer

"A well-written mystery that moves quickly...[provides] insight into European politics vis-a-vis the United States just prior to the American Civil War." —Mystery Scene Magazine

Praise for The Vanishing Man:

"Fiction readers who crush on blue-blooded British detectives will fall hard for Victorian-era sleuth Charles Lenox." —The Washington Post

"Finch's nimble prose, edged with humor, makes this twelfth in the Charles Lenox series a pure delight." —Booklist (starred review)

"Rich in period minutiae...unveils the frightening power of the uppermost classes." —Kirkus Reviews

Praise for The Woman in the Water:

"A cunning mystery."—The New York Times Book Review

"Finch is an elegant stylist...a persuasive portrait of Victorian England."—The Washington Post

"Finch does a wonderful job of re-creating the atmosphere of mid-19th-century England; his characters are crisply drawn and believable. It's wonderful to see the neophyte Lenox develop the skills for which he becomes renowned in later books. An excellent addition to an already terrific series." —Library Journal (starred)

"With its splendidly drawn characters and brisk, supple prose, this can be either an inviting introduction to those new to Finch's accomplished series or a winning addition to the canon for established fans." —Booklist (starred)

"Lenox has officially reached the big leagues—the conclusion waiting for him is nothing short of chilling. A case with enough momentum to recharge this series and grab new readers with its pull." —Kirkus Reviews