And Now She's Gone: A Novel (Hardcover)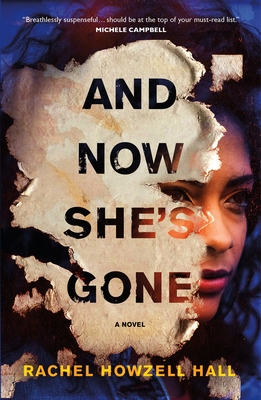 $27.99
Email or call for price
Description
---
"Sharp, witty and perfectly paced, And Now She's Gone is one hell of a read!" —Wendy Walker, bestselling author of The Night Before

Isabel Lincoln is gone.

But is she missing?

It's up to Grayson Sykes to find her. Although she is reluctant to track down a woman who may not want to be found, Gray's search for Isabel Lincoln becomes more complicated and dangerous with every new revelation about the woman's secrets and the truth she's hidden from her friends and family.

Featuring two complicated women in a dangerous cat and mouse game, Rachel Howzell Hall's And Now She's Gone explores the nature of secrets — and how violence and fear can lead you to abandon everything in order to survive.
About the Author
---
RACHEL HOWZELL HALL is the author of the acclaimed Lou Norton series, the standalone thriller They All Fall Down, and co-author of The Good Sister with James Patterson, which appeared in the New York Times bestselling anthology The Family Lawyer. She is the senior development officer for the Donor Relations Department at Cedars Sinai. Currently she serves on the Board of Directors for the Mystery Writers of America, is a member of Sisters in Crime, and has participated as a mentor in the Association of Writers and Writing Programs' Writer-to-Writer Program. She lives in Los Angeles.
Praise For…
---
Praise for And Now She's Gone:

"It's a feat to keep high humor and crushing sorrow in plausible equilibrium in a mystery novel, and few writers are as adept at it as Rachel Howzell Hall." —Washington Post

"One of the best books of the year...whip-smart and emotionally deep, And Now She's Gone is a deceptively straightforward mystery, blending a fledgling PI's first 'woman is missing' case with underlying stories about racial identity, domestic abuse and rank evil." —Los Angeles Times

"Smart, razor-sharp....Full of wry, dark humor, this nuanced tale of two extraordinary women is un-put-downable." —Publishers Weekly (starred review)

"Smart, packed with dialogue that sings on the page, Hall's novel turns the tables on our expectations at every turn, bringing us closer to truth than if it were forced on us in school." —Walter Mosley

"A fierce PI running from her own dark past chases a missing woman around buzzy LA. Breathlessly suspenseful, as glamorous as the city itself, And Now She's Gone should be at the top of your must-read list."
—Michele Campbell, bestselling author of A Stranger on the Beach.

"One of crime fiction's leading writers at her very best. The final twist that will make you want to immediately turn back to page one and read it all over again. And Now She's Gone is a perfect blend of PI novel and psychological suspense that will have readers wanting more." —Kellye Garrett, Anthony, Agatha, and Lefty Award-winning author of Hollywood Homicide and Hollywood Ending

"Sharp, witty and perfectly paced, And Now She's Gone is one hell of a read!" —Wendy Walker, bestselling author of The Night Before

"Hall once again proves to be an accomplished maestro who has composed a symphony of increasing tension and near unbearable suspense. Rachel brilliantly reveals the bone and soul of our shared humanity and the struggle to contain the nightmares of human faults and failings. I am a fan, pure and simple." —Stephen Mack Jones, award-winning author of the August Snow thrillers

"Heartfelt and gripping... I'm a perennial member of the Rachel Howzell Hall fan club, and her latest is a winning display of her wit and compassion and mastery of suspense." —Steph Cha, award-winning author of Your House Will Pay

"An entertainingly twisty plot, a rich and layered sense of place, and most of all a main character who pops off the page. Gray Sykes is hugely engaging and deeply complex, a descendant of Philip Marlowe and Easy Rawlings who is also definitely, absolutely her own woman." —Lou Berney, award-winning author of November Road

"A deeply human protagonist, an intricate and twisty plot, and sentences that make me swoon with jealousy...Rachel Howzell Hall will flip every expectation you have—this is a magic trick of a book." —Rob Hart, author of The Warehouse

"And Now She's Gone has all the mystery of a classic whodunnit, with an undeniably fresh and clever voice. Hall exemplifies the best of the modern PI novel." —Alafair Burke, New York Times bestselling author

Praise for Rachel Howzell Hall:

"A fresh voice in crime fiction." —Lee Child

"Devilishly clever. . . Hall's writing sizzles and pops." —Meg Gardiner

"Hall slips from funny to darkly frightening with elegant ease." —Publishers Weekly

Praise for They All Fall Down:

"A riotous and wild ride." —Attica Locke

"Dramatic, thrilling and even compulsive." —James Patterson

"An intense, feverish novel with riveting plot twists." —Sara Paretsky

"Hall is beyond able and ready to take her place among the ranks of contemporary crime fiction's best and brightest." —Strand Magazine