The Secret Society of Aunts & Uncles (Hardcover)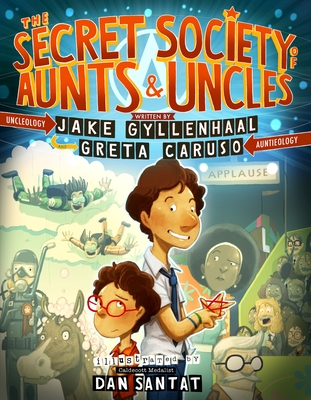 Description
---
WARNING: This book is for aunts, uncles, nieces and/or nephews ONLY!

Let's face it, being an aunt or uncle is AWESOME. There are countless adventures to be had, from eating dessert before dinner to activities with the perfect amount of HDD - Healthy Dose of Danger. But that isn't all. In order to master the sacred art of Auntieology and Uncleology, you must be tested by a distinguished panel of nieces and nephews, as there are rules and regulations to follow. For instance: when is bedtime? 8 o'clock you say? WRONG!*

The Secret Society of Aunts & Uncles is a madcap, magical adventure into the heart of what it means to have an aunt or uncle—how we learn to keep each other close and find love in the simplest things. Jake Gyllenhaal and Greta Caruso paint a goofy, loving portrait of one of the most important relationships in children's lives in this funny and heartfelt romp of a picture book with witty and inventive illustrations by award-winning illustrator Dan Santat. This is the perfect gift for the nice or nephew in anyone's life.


*If a parental unit is reading this, bedtime is DEFINITELY 8 o'clock sharp, aunts and uncles will not make any exceptions! (Okay, now that that's out of the way. . .Secret Society rules state it is ALWAYS exactly three minutes before the parental units get home. . .but that's just between us.)
About the Author
---
Jake Gyllenhaal is an Academy Award- and Tony-nominated actor, producer, and, most importantly, uncle to Ramona and Gloria. He was born in Los Angeles and has been best friends with Greta Caruso (his coauthor) since they were kids.

Greta Caruso is the longtime niece of a small group of Hall-of-Famer aunts and uncles. (She is also an aspiring HoF aunt to Vincent.) A lifelong voracious reader-and entrepreneur and producer-Greta has loved writing this, her first book, with her best friend, Jake.

Dan Santat is the Caldecott Medal–winning and New York Times–bestselling author and illustrator of The Adventures of Beekle: The Unimaginary Friend and the road trip/time travel adventure Are We There Yet? His artwork is also featured in numerous picture books, chapter books, and middle-grade novels, including Dav Pilkey's Ricky Ricotta series. Dan lives in Southern California with his wife, two kids, and many, many pets.
Praise For…
---
Praise for The Secret Society of Aunts & Uncles:

"Santat's illustrations extend the story with hilarity, ­absurdity, and tenderness . . . Nieces and nephews who read this book will never look at their aunts and uncles the same way again. A wonderful adventure to be enjoyed by all and a challenge to all adults to loosen up and enjoy the children around them." –School Library Journal