Love Rules: A Family's True Story of Adoption and Unconditional Love (Hardcover)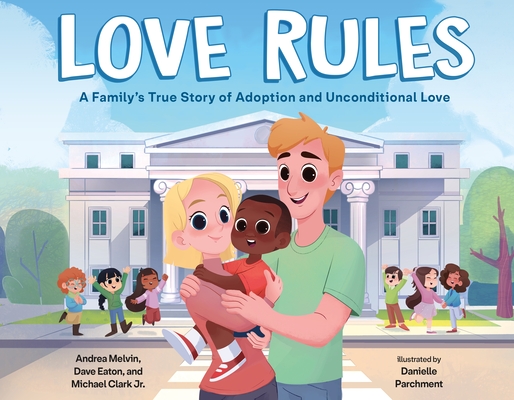 Description
---
When Michael came to live with Andrea and Dave, all he had was one bag and a list of questions. The biggest being: Will I stay?

He met their dog, Rory, and had his favorite dinner. He went camping and started a new school with new friends. All while asking himself the same question: Will I stay?

As Michael felt more and more at home, his worry that he would have to leave grew bigger than ever. And finally, one day, he got the answer to his question. And a surprise bigger than he could have dreamed of.

Based on a the true story that captured the hearts of thousands as their courtroom video went viral, Michael, Andrea, and Dave share how they opened their hearts to another in this touching story of adoption and love. Readers will be welcomed into the life of a beautiful new family.
About the Author
---
Andrea Melvin and Dave Eaton, both from Canada, were married in 2010. Andrea is a curator at Grand Rapids Public Museum and Dave is a professor of history at Grand Valley State University. Michael joined their family in 2019. As a family, they enjoy spending time together at home as well as traveling. They live in East Grand Rapids, Michigan with their dog, Rory.

Danielle Parchment is a self-taught illustrator from St. Catherine, Jamaica. She was selected as a character designer through the Korea Trust Fund for a seven-month internship at Funny Flux Studios in Seoul, South Korea, in 2017, at which time she honed her skills. For KingstOOn Festival 2019, Danielle's character design entry captured the hearts of the judges with her cultural design, winning her first place and the opportunity to attend Vancouver's Capilano University 2D Animation summer program as a part of her prize. Danielle's heartwarming drawings are inspired by her little sister, who has a very active imagination. When Danielle is not drawing, she enjoys reading, playing her ukulele, and spending time with her little sister.