Siren Queen (Hardcover)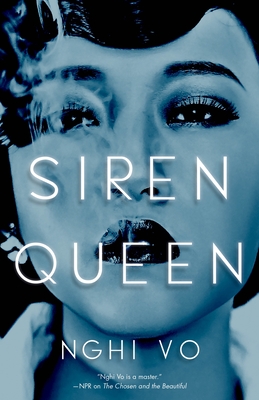 May 2022 Indie Next List
---
"Nghi Vo's vision of magic in 1920s Hollywood enriches the protagonist's transformation and shows readers all that was at stake for those in the early film industry. Siren Queen reminds us of all that the term 'movie magic' implies."
— Katarina Diepholz, Charter Books, Newport, RI
Description
---
"Lyrical, mesmerizing, and otherworldly. . . stunning proof that Nghi Vo is one of the most original writers we have today. A beautiful, brutal, monstrous Hollywood fantasy."—Taylor Jenkins Reid, New York Times bestselling author of The Seven Husbands of Evelyn Hugo

Immortality is just a casting call away.

World Fantasy Award Finalist
Locus Award Finalist
Ignyte Award Finalist
An Amazon Best Book of 2022
One of NPR's Best Books of 2022
Vulture's #1 Fantasy Novel of 2022
Indie Next List Reading Group Book of 2023

Best of Year Selections at Apple Books | B&N Booksellers | LibraryReads | TIME Magazine | Oprah Daily | The Philadelphia Inquirer | Publishers Weekly | Buzzfeed | Chicago Review of Books | LitHub | Book Riot | Paste Magazine | Geek Girl Authority | Bookish | The Mary Sue | New York Public Library | Vulture | Locus Recommended Reading List | Kobo | The Quill to Live | Goodreads | L. A. Public Library | Audible | Amazon | NPR

An Indie Next and LibraryReads Pick
A Brooklyn Library Prize Finalist

It was magic. In every world, it was a kind of magic.

"No maids, no funny talking, no fainting flowers." Luli Wei is beautiful, talented, and desperate to be a star. Coming of age in pre-Code Hollywood, she knows how dangerous the movie business is and how limited the roles are for a Chinese American girl from Hungarian Hill—but she doesn't care. She'd rather play a monster than a maid.

But in Luli's world, the worst monsters in Hollywood are not the ones on screen. The studios want to own everything from her face to her name to the women she loves, and they run on a system of bargains made in blood and ancient magic, powered by the endless sacrifice of unlucky starlets like her. For those who do survive to earn their fame, success comes with a steep price. Luli is willing to do whatever it takes—even if that means becoming the monster herself.

Siren Queen offers up an enthralling exploration of an outsider achieving stardom on her own terms, in a fantastical Hollywood where the monsters are real and the magic of the silver screen illuminates every page.
About the Author
---
Nghi Vo is the author of the novels Siren Queen and The Chosen and the Beautiful, as well as the acclaimed novellas Mammoths at the Gates, Into the Riverlands, When the Tiger Came Down the Mountain, and The Empress of Salt and Fortune, a Locus and Ignyte Award finalist and the winner of the Crawford Award and the Hugo Award. Born in Illinois, she now lives on the shores of Lake Michigan. She believes in the ritual of lipstick, the power of stories, and the right to change your mind.
Praise For…
---
"Lyrical, mesmerizing, and otherworldly. . . stunning proof that Nghi Vo is one of the most original writers we have today. A beautiful, brutal, monstrous Hollywood fantasy."—Taylor Jenkins Reid, New York Times bestselling author of The Seven Husbands of Evelyn Hugo

World Fantasy Award Finalist
Locus Award Finalist
Ignyte Award Finalist
An Amazon Best Book of 2022
One of NPR's Best Books of 2022
Vulture's #1 Fantasy Novel of 2022
Indie Next List Reading Group Book of 2023

Best of Year Selections at Apple Books | B&N Booksellers | LibraryReads | TIME Magazine | Oprah Daily | The Philadelphia Inquirer | Publishers Weekly | Buzzfeed | Chicago Review of Books | LitHub | Book Riot | Paste Magazine | Geek Girl Authority | Bookish | The Mary Sue | New York Public Library | Vulture | Locus Recommended Reading List | Kobo | The Quill to Live | Goodreads | L. A. Public Library | Audible | Amazon | NPR

An Indie Next and LibraryReads Pick
A Brooklyn Library Prize Finalist

"Nghi Vo's reimagining of old Hollywood as a world rife with fae trickery, ambition, and greed is as clever as it is dazzling, as incisive as it is empowering. Vo's heroine is captivating, her atmosphere heady and sensual, her storytelling spellbinding. Escape into this book, but be warned—it may not let you go."—Olivie Blake, New York Times-bestselling author of The Atlas Six

"Siren Queen establishes Vo as an uncommonly talented new voice in fantasy, one who writes from a place of anger, insight, and deep compassion."--Vulture

"Vo creates an absorbing narrative about success and survival."—Time Magazine

"Nghi Vo can take even the most ordinary of actions and describe it in a way you never thought of before and do it with heartbreaking beauty and layers of subtext."—NPR

"Imagines the golden age of Hollywood as a fantastical world where monsters control the industry through dark rituals of blood and ancient magic. But Luli Wei is set on becoming a star no matter the cost, taking readers on an enthralling journey to achieve stardom on her own terms."—The Washington Post

"Were you mesmerised by the enchantment of Erin Morgenstern's The Night Circus and the glamour of Taylor Jenkins Reid's The Seven Husbands Of Evelyn Hugo? Then you'll fall in love with this."—HuffPost UK

"This riveting novel so deeply enmeshes magic with reality that it often feels impossible to differentiate the two. It's a breathtaking read."—Buzzfeed

"Nghi Vo has become one of my favorite writers, and Siren Queen is lush and brilliant, a mesmerizing journey into a pre-code Hollywood that is all sharp edges, with the darkest magic and highest stakes."—Martha Wells, author of Network Effect

"Vo imagines the golden age of Hollywood as full of fey and dangerous creatures ready to claim your soul in exchange for fame on the big screen. . . . This book kept me up reading until the late hours."—Rebecca Roanhorse, New York Times bestselling author of Black Sun

"Searing and seductive, Siren Queen is the kind of book that leaves you wrecked on its shores. When I look up at the stars, I'll think of Luli."—Alix E. Harrow, New York Times-bestselling author of The Once and Future Witches

"In this stellar novel, Vo turns Hollywood into a fairyland—the kind from the old stories, sharp and dangerous—and laces the sparkling silver romance of the movies with a dark, exploitative, hungry greed. . . . Pair that vivid world with the stubborn, passionate Luli and a pace that turns from slow and delightfully sexy to vast and terrifying with the turn of a page and you have the brilliantly searing Siren Queen."—Booklist (starred review)

"Vo's spellbinding latest solidifies her position as a force to be reckoned with in speculative fiction. [Her] hypnotic prose blends metaphor with magic so seamlessly that reality itself becomes slippery. Her dazzling voice, evocative scene setting, and ambitious protagonist make this a knockout."—Publishers Weekly (starred review)

"Movie magic is made manifest, beguiling, and deadly in Vo's tale about Luli, a Chinese American girl who is determined to realize her dreams of movie stardom. . . . Luli is a compelling character both on and off the screen in this story that takes the mythmaking of Hollywood and transforms it and her into something transcendent. Highly recommended."—Library Journal (starred review)

"Vo packs the novel with themes of racism, queer identity, immigrant experience and the freedom to define one's own life and relationships, while maintaining a richly cultivated and dreamlike world. With lush imagery and a gorgeously rendered atmosphere worthy of its complex heroine, Siren Queen is magical realism at its most beautiful and intoxicating."—Shelf Awareness (starred review)

"A piece of perfection. It is queer and it is unapologetic and it is loving and it is a reminder that we can survive our demons, that we can outsmart them, that we can beat them at their own game."—Cassandra Khaw, USA Today bestselling author of Nothing But Blackened Teeth

"The book of my dreams—vivid, sensual, frightening, and inexpressibly gorgeous, often in the same sentence. . . . Nghi Vo is a magician—no—maybe a god."—Kelly Robson, author of Gods, Monsters & the Lucky Peach

"It's a clever bit of craftsmanship the way Nghi Vo braids the fantastical into the earthly in her story of a queer Chinese American actress breaking into the movie biz at the dawn of the talkie era."—The Philadelphia Inquirer

"This sharp, chilly book is a stunning and sapphic book of fae-like negotiations and traps, of predatory directors and monsters lurking in every shadow, but is powered by Luli's passion and fierce determination to succeed."--Book Riot

"A harrowing, fantastical journey through an alternate pre-code Hollywood, where magic is rampant, contracts with the studios are Faustian, and movie stars literally inhabit the night sky if they are lucky enough to rise. It is also a journey of self-discovery, love found, lost, and found again."--L.A. Public Library

"Early Hollywood meets monsters, magical realism, and social commentary."—Fodors

"From the author of The Chosen and the Beautiful, a queer spin on The Great Gatsby, comes the story of Luli Wei, a Chinese American actress in the golden age of Hollywood. She gets her break playing monsters, and through these roles learns to outmaneuver men who seek to control her."—USA Today

"Vo's darkly delicious tale will linger in the wings of your imagination for a long time to come."—Book Riot, Best of the Year feature

"A page-turner that is not your standard beach read."—National Trust for Historic Preservation