Twice as Perfect (Hardcover)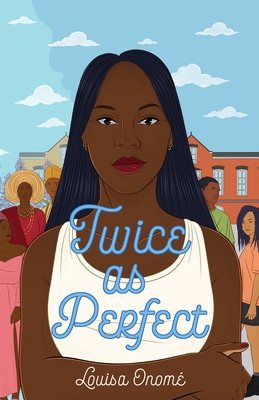 Description
---
A Young Adult novel by Louisa Onomé, Twice As Perfect follows a Nigerian Canadian girl dealing with an estranged older brother, helping her cousin plan a big Nigerian wedding, and pressure from her parents about her future.

She thinks the only things worth doing are those that will lead to success.

For seventeen-year-old Adanna Nkwachi, life is all about duty: to school and the debate team, to her Nigerian parents, and even to her cousin Genny as Adanna helps prepare Genny's wedding to Afrobeats superstar Skeleboy. Because ever since her older brother, Sam, had a fight with their parents a few years ago and disappeared, somebody had to fill the void he left behind. Adanna may never understand what caused Sam to leave home, but the one thing she knows is that it's on her to make sure her parents' sacrifices aren't in vain.

One day, chance brings the siblings together again and they start working to repair their bond. Although she fears how their parents will react if they find out, Adanna's determined to get answers about the night Sam left—Sam, who was supposed to be an engineer but is now, what, a poet? The more she learns about Sam's poetry, the more Adanna begins to wonder if maybe her own happiness is just as important as doing what's expected of her.

Amid parental pressure, anxiety over the debate competition, a complicated love life, and the Nigerian wedding-to-end-all-weddings, can Adanna learn, just this once, to put herself first?
About the Author
---
Louisa Onomé is the Nigerian Canadian author of the critically acclaimed young adult novel Like Home. She holds a BA in professional writing from York University. When she is not writing, her hobbies include picking up languages she may never use, crying over her favorite video games, and perfecting her skin-care routine. She currently resides in the Toronto area.
Praise For…
---
"Onomé artfully weaves emotionally dense commentary on straddling multiple cultural identities and meeting immigrant familial expectations with playful dialogue in Nigerian pidgin and compelling characters, making for a full, feel-good read. Recommend this to fans of realistic fiction and children of diaspora seeking joyful representation" —Bulletin of the Center for Children's Books (BCCB)

"Deftly drawn, charismatic characters bring a measure of humor to the story and reverently convey aspects of Nigerian culture. Themes . . . are seamlessly interwoven in a fluid plot that is honest and satisfying." —Horn Book Magazine

"Twice As Perfect intricately weaves together the profound pressures of being the children of immigrants with the enormous love of one's culture and family. A beautiful and multifaceted novel that is sure to tug on anyone's heartstrings." —Adiba Jaigirdar, author of Hani and Ishu's Guide to Fake Dating

"A heartfelt story about growing up and discovering one's passions amongst familial and communal expectations. Twice as Perfect captures the ups and downs that come with belonging in two worlds, and readers will root for Adanna as she learns to show up as her authentic self." —Laila Sabreen, author of You Truly Assumed

"Razor-sharp, smart, and tender, Twice as Perfect celebrates family, friendship, and finding yourself." —Nafiza Azad, author of The Wild Ones

Praise for Like Home:

"The effortless diversity of the cast is a model for fiction. Light and serious, playful and real, this is a debut not to be missed." —Kirkus Reviews, starred review

"A touching coming-of-age story, highly recommended for audiences looking for titles like Angie Thomas's The Hate U Give and Nic Stone's Dear Martin. A must-have." —School Library Journal, starred review

"A phenomenal coming-of-age story that centers on Black girlhood, the not-so-subtle violence of gentrification, and friendship. Louisa Onomé presents us with a compelling and beautifully written tale about love and loss." —Faridah Àbíké-Íyímídé, New York Times and Indie bestselling author of Ace of Spades