The Letters of Thom Gunn (Paperback)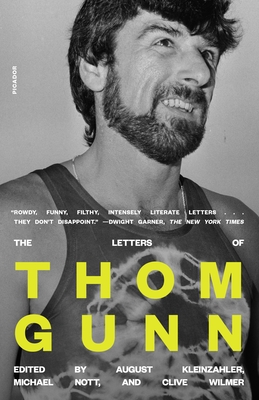 Description
---
The Letters of Thom Gunn presents the first complete portrait of the private life, reflections, and relationships of a maverick figure in the history of British and American poetry

"I write about love, I write about friendship," remarked Thom Gunn. "I find that they are absolutely intertwined." These core values permeate his correspondence with friends, family, lovers, and fellow poets, and they shed new light on "one of the most singular and compelling poets in English during the past half-century" (Hugh Haughton, The Times Literary Supplement).

The Letters of Thom Gunn, edited by August Kleinzahler, Michael Nott, and Clive Wilmer, reveals the evolution of Gunn's work and illuminates the fascinating life that informed his poems: his struggle to come to terms with his mother's suicide; settling in San Francisco and his complex relationship with England; his changing relationship with his life partner, Mike Kitay; the LSD trips that led to his celebrated collection Moly (1971); and the deaths of friends from AIDS that inspired the powerful, unsparing elegies of The Man with Night Sweats (1992).
About the Author
---
Thom Gunn (1929–2004) was educated at Cambridge University and wrote his first collection of poems, Fighting Terms (1954), while he was still an undergraduate. He moved to Northern California in 1954 and taught at American universities until his death. His last collection was Boss Cupid (FSG, 2000).

Michael Nott is the author of Photopoetry, 1845–2015: A Critical History and an editor of The Letters of Thom Gunn. He was a Fulbright fellow at the University of California, Berkeley, and a postdoctoral fellow at University College Cork. He lives in England.

August Kleinzahler was born in Jersey City, New Jersey, in 1949. He is the author of more than a dozen books of poems and a memoir, Cutty, One Rock. His collection The Strange Hours Travelers Keep was awarded the 2004 Griffin Poetry Prize, and Sleeping It Off in Rapid City won the 2008 National Book Critics Circle Award for poetry. That same year he received a Lannan Literary Award. He lives in San Francisco.

Clive Wilmer, who first met Thom Gunn in 1964, is the author of over half a dozen books of poetry, including New and Collected Poems (2012). He edited Gunn's first collection of essays, The Occasions of Poetry (1982), and his New Selected Poems (2018). He is an emeritus fellow in English at Sidney Sussex College, Cambridge.
Praise For…
---
"Rowdy, funny, filthy, intensely literate letters . . . These letters have been anticipated, by many, because [Gunn] rarely spilled his guts on the page. There's been no biography. These letters are what we have, and they don't disappoint . . . This book, like Gunn's life, puts an unusual mix of pleasures on display." —Dwight Garner, The New York Times Book Review

"One's experience of Gunn's poetry—which is, by turns, conversational, formal, and metaphysical, and often all three at once—is deeply enhanced by the life one discovers in The Letters of Thom Gunn (expertly co-edited by Michael Nott—who provides a heartfelt and knowledgeable introduction—and Gunn's close friends the poets August Kleinzahler and Clive Wilmer) . . . In the letters, I have discovered the person Gunn left out of the poems." —Hilton Als, The New Yorker

"Absorbing reading . . . we have Gunn's thoughts on everything from pornography to poststructuralism, and his delight at being the soul of indiscretion . . . Reading what Gunn didn't choose to show to the public, and knowing what he did, it becomes clear how personal a writer he is... The correspondence throws new light on his work by allowing us to see things other than his notorious coolness." —Matthew Bevis, Harper's

"A poet of great wit and style, Thom Gunn was also a lyrical portraitist, which is especially evident in his recently collected letters . . . These letters vastly increase our understanding of his painstaking compositional processes . . . One is struck by his startling lack of hubris or defensiveness—his openness, even late in his career, to advice and criticism." —Mark Ford, The New York Review of Books

"A mineshaft into the multilayered life of one of the great English poets of the second half of the 20th century . . . The perfect combination of leather and literature." —Paul Muldoon, The Independent

"The letters draw out the contradictions that made Gunn something of an anomaly: an agile poet who renovated tradition to accommodate the rude litter of modernity." —Jeremy Lybarger, The New Republic

"Fascinating glimpses into the way a first-rate poet managed to keep a precarious gift at the center of his life, while also fully living that life." —Nate Klug, The Threepenny Review

"Filled with powerful takes on [Gunn's] creative process, interpersonal relationships, and day-to-day life . . . The editors' footnotes are illustrative rather than intrusive, and the robust collection is packed with life and vigor. This should help bring Gunn and his work to a new generation of readers." —Publishers Weekly (Starred Review)

"Meticulously edited, introduced, and annotated by literary scholar Nott and poets Kleinzahler and Wilmer, this commodious selection vibrantly portrays the acclaimed British poet Gunn . . . sure to please any fan of literary biography." —Kirkus Reviews (Starred Review)

"Gunn's letters are a testament to his vitality and enthusiasm for a cornucopia of experiences embraced with gusto and eloquently shared." —Booklist (Starred Review)

"Impeccably curated and crafted by a distinguished trio of fellow poets and scholars, this selection of missives by poet Thom Gunn establishes the literary artist as an enormously talented and creative powerhouse. Through his letters, readers will garner a new appreciation for Gunn through his craft and work with other poets, his personal interactions, his sexuality as a gay man in the era of AIDS, and his overall life." —Jim Piechota, The Bay Area Reporter