TinkerActive Kindergarten 3-in-1 Workbook: Math, Science, English Language Arts (TinkerActive Workbooks) (Paperback)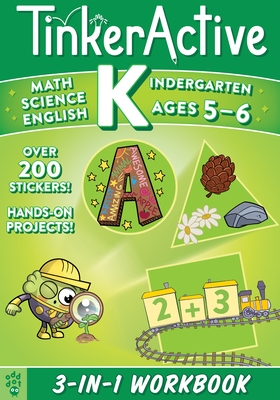 Description
---
TINKERACTIVE WORKBOOKS: KINDERGARTEN DELUXE WORKBOOK is part of an illustrated educational series that combines curriculum-based exercises designed for all learners with hands-on activities to help kids learn through play.

With TinkerActive Workbooks, learning leaps off the page and into the real world. Start with interactive and entertaining exercises that cover the essential kindergarten Math, Science, and English Language Arts skills. Then, apply what you've learned with exciting hands-on tinkering, making, and engineering activities and common household materials.

A charming cast of characters—the fuzzy, friendly TinkerActive MotMots, creatures of all shapes and sizes—guide kids through every new concept with cheer and humor. Once you've completed the workbook, paste the sticker badges of success on the included poster.

Created in consultation with award-winning educators, TinkerActive Workbooks are designed so kids can learn through play! They build your child's fundamental skills AND inspire them to try new things, discover new skills, and imagine new possibilities.

This workbook covers: Classifying and Sorting, Counting and Quantities, Comparing Quantities and Numbers, Addition and Subtraction, Measurement and Shapes, Weather and Seasons, Plants and Animals, People and the Environment, Reduce, Reuse, Recycle, Pulls, Pushes and Collisions, The Alphabet, Phonics, Reading Comprehension, Writing Sentences, Research and Informational Text
About the Author
---
Megan Hewes Butler, who has written several TinkerActive Workbooks, is a writer and producer who has been creating childrens' curriculum, games, and books for over 15 years. Megan lives, writes, and plays in Park Slope, Brooklyn with her husband and two sons.
Taryn Johnson is an illustrator and designer based in Massachusetts. She received her B.A. from Hampshire College where she studied both art and science. She brings a playful appreciation of nature to her work, and with each project hopes to spark curiosity and wonder for our planet and the life that lives here.

Johnson has contributed to the TinkerActive Workbooks series from Odd Dot.
Ellen Stubbings is a children's book illustrator (
Father Goose
), comic artist, and cute thing maker. She graduated with a first class honors degree in Illustration from the University of Lincoln and currently resides in the UK. Ellen creates her art digitally in her tiny office, often accompanied by her husband, Wesley, and tuxedo cat, Figaro.
Bronwyn Gruet
is an illustrator and designer based in Durham, North Carolina. Since earning her BFA in illustration from Rhode Island School of Design in 2009, Bronwyn has created imagery and branding for a wide range of clients. Above all, she loves to make work that sparks delight in the people who see it.
Nathalie Le Du is a writer and editor of interactive books that kids write in, cut up, draw on, generally destroy, and ultimately learn from. Nathalie has been at the helm and in the pages of such brands as KUMON WORKBOOKS, BRAIN QUEST, STAR WARS WORKBOOKS, and the BIG FAT NOTEBOOKS. Nathalie is also a mom, native New Yorker, a first-generation American, and a proud product of public schools.