TinkerActive 2nd Grade 3-in-1 Workbook: Math, Science, English Language Arts (TinkerActive Workbooks) (Paperback)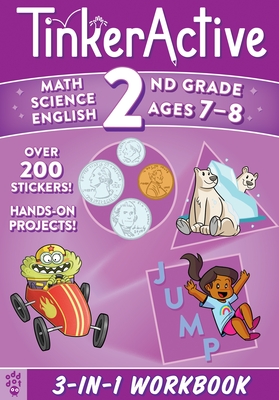 Description
---
TINKERACTIVE WORKBOOKS: 2ND GRADE DELUXE WORKBOOK is part of an illustrated educational series that combines curriculum-based exercises designed for all learners with hands-on activities to help kids learn through play.

With TinkerActive Workbooks, learning leaps off the page and into the real world. Start with interactive and entertaining exercises that cover the essential 2nd Grade Math, Science, and English Language Arts skills. Then, apply what you've learned with exciting hands-on tinkering, making, and engineering activities and common household materials.

A charming cast of characters—the fuzzy, friendly TinkerActive MotMots, creatures of all shapes and sizes—guide kids through every new concept with cheer and humor. Once you've completed the workbook, paste the sticker badges of success on the included poster.

Created in consultation with award-winning educators, TinkerActive Workbooks are designed so kids can learn through play! They build your child's fundamental skills AND inspire them to try new things, discover new skills, and imagine new possibilities.

This workbook covers: Place Value, Addition and Subtraction Within 1,000, Comparing Numbers, Time and Money, Shape Attributes and Geometry, States of Matter, Water Cycle, Earth's Surface, Habitats, Engineering Design, Parts of Speech, Reading Comprehension, Comparing Texts, Writing Stories, Writing Informational Texts.
About the Author
---
Enil Sidat is a writer of fiction and nonfiction for all ages across books, film, and TV. He loves to tinker, make, and engineer any number of projects. At any given time, he's joyful if not happy, learning if not winning, and playing as often as possible.
Megan Hewes Butler, who has written several TinkerActive Workbooks, is a writer and producer who has been creating childrens' curriculum, games, and books for over 15 years. Megan lives, writes, and plays in Park Slope, Brooklyn with her husband and two sons.
Les McClaine
decided he wanted to draw comics when he was eight years old and has been doing it ever since. He is the Eisner-nominated author of "Johnny Crossbones," "Life With Leslie," "Repeat Until Death," and "Highway 13." He has also illustrated numerous comics including "The Tick" and "The Middleman." In 2008, "The Middleman" was made into a TV series for ABC Family. He lives in Portland, Oregon in a little yellow house with his wife Crystal and their cat Theodore.
Tae Won Yu is an artist and designer working in Brooklyn. He is the co-author and illustrator of
My First Baby Signs
.
Chad Thomas first picked up a pencil in 1983, decided to draw cartoons in 1988, and finally started getting paid for it in 2005. He loves his family, comic books and Star Wars, and will let his children beat him in Checkers, but never in Mario Kart.

Thomas has illustrated several TinkerActive Workbooks for Odd Dot.