TinkerActive Pre-K 3-in-1 Workbook: Math, Science, English Language Arts (TinkerActive Workbooks) (Paperback)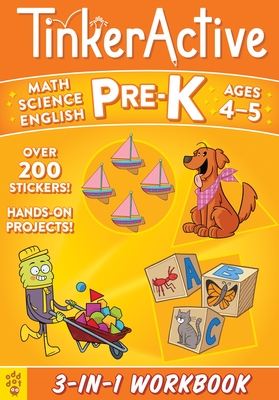 Description
---
Skills leap beyond the page in this play-based workbook for preschoolers.

Each workbook is:
Created with AWARD-WINNING TEACHERS
Covers MATH, SCIENCE, and ELA CURRICULUM
Aligned to COMMON CORE STATE STANDARDS
Packed with over 200 CURRICULUM-BASED ACTIVITIES
Filled with 45 HANDS-ON STEM projects
Jammed with over 200 STICKERS
Topped off with an ACHIEVEMENT POSTER to celebrate your child's success!

Covering math, science, and English language arts, TinkerActive Deluxe Workbooks are designed so kids learn through play! Build your child's fundamental skills with easy-to-understand workbook activities. Then inspire them to try new things, discover new skills, and imagine new possibilities with our hands-on tinkering, crafting, and engineering projects. The fuzzy and lovable TinkerActive MotMots guide kids through every new concept with cheer and humor.

This workbook covers: Same & Different, Sorting, Counting to 20, Quantities, Writing Numbers, Addition & Subtraction Fundamentals, Measurement, Spatial Reasoning, and Shapes, The Alphabet, Uppercase & Lowercase Letters, Phonics, Reading Fundamentals, Writing Fundamentals, Vocabulary, Reading Comprehension: Fiction, Reading Comprehension: Informational Texts, Writing Stories, and Writing Informational Texts, and Living Things, My Body & The Five Senses, Animals & Plants, The Earth & Sky, Weather & Seasons, Water & Ice, Taking Care of the Earth, Sorting Objects, and Moving & Changing Objects.
About the Author
---
Nathalie Le Du is a writer and editor of interactive books that kids write in, cut up, draw on, generally destroy, and ultimately learn from. Nathalie has been at the helm and in the pages of such brands as KUMON WORKBOOKS, BRAIN QUEST, STAR WARS WORKBOOKS, and the BIG FAT NOTEBOOKS. Nathalie is also a mom, native New Yorker, a first-generation American, and a proud product of public schools.
Megan Hewes Butler, who has written several TinkerActive Workbooks, is a writer and producer who has been creating childrens' curriculum, games, and books for over 15 years. Megan lives, writes, and plays in Park Slope, Brooklyn with her husband and two sons.
Les McClaine
decided he wanted to draw comics when he was eight years old and has been doing it ever since. He is the Eisner-nominated author of "Johnny Crossbones," "Life With Leslie," "Repeat Until Death," and "Highway 13." He has also illustrated numerous comics including "The Tick" and "The Middleman." In 2008, "The Middleman" was made into a TV series for ABC Family. He lives in Portland, Oregon in a little yellow house with his wife Crystal and their cat Theodore.
Chad Thomas first picked up a pencil in 1983, decided to draw cartoons in 1988, and finally started getting paid for it in 2005. He loves his family, comic books and Star Wars, and will let his children beat him in Checkers, but never in Mario Kart.

Thomas has illustrated several TinkerActive Workbooks for Odd Dot.
Pat Lewis
is a freelance cartoonist/illustrator who lives in Pittsburgh, PA with his wife and two cats. His artwork has appeared in magazines such as Highlights for Children and Boys' Life, as well as books by Workman Publishing, Macmillan and McGraw-Hill. Some of his favorite things in this world are: flea markets, road trips, monster movies and snack-bar nachos. Oh, and drawing funny pictures for kids and adults.