McGraw-Hill Education GRE Elite 2021 (Paperback)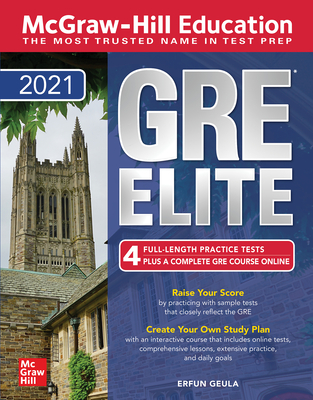 This item is not available.
Description
---
We Will Help You Get Your Best Score
With more than 125 years of experience in education, McGraw-Hill Education is the name you trust to deliver results. This MHE guide is the most comprehensive and relevant prep tool on the market. We will help you excel on the GRE with:

4 full-length practice tests: 3 in the book and 1 more online
A thorough review of the math concepts essential to the GRE
Extensive practice questions for both the Verbal and Quantitative Sections
Techniques for success on Data Interpretation questions
Practice and sample high-scoring essays for Analytical Writing assignments
Up-to-date information on scoring and test format
Invaluable shortcuts to help you save time and minimize mistakes
Why the Elite Edition?
If you are aiming for nothing less than your personal best, this study guide is for you In addition to the materials in the book, the GRE Elite Edition gives you access to the unique online prep course you can access anytime, anywhere. It offers:

4 interactive practice tests
A personalized study plan with daily goals
Powerful analytics to chart your progress
Digital flash cards, games, and feedback from your peers
Test-Taking Tips
Learn techniques developed by the author to help you avoid the test maker's traps.
Quant Strategies
Discover the author's own strategies for mastering Quantitative Comparison questions.
About the Author
---
Erfun Geula is the founder of GRE Compass, a tutoring firm specializing in GRE preparation. A perfect scorer on the GRE, he has logged more than 12,000 hours of tutoring experience over eight years. The author's work has taken him across the globe, helping hundreds of students maximize their test scores and achieve their graduate school goals.