The Language of Thieves: My Family's Obsession with a Secret Code the Nazis Tried to Eliminate (Hardcover)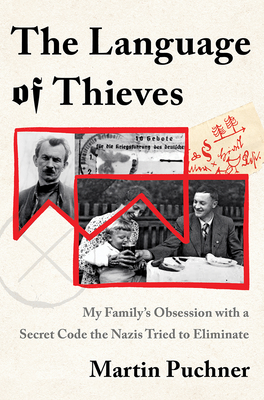 $26.95

Usually arrives at our store within 4-7 days
Description
---
Tracking an underground language and the outcasts who depended on it for their survival.
Centuries ago in middle Europe, a coded language appeared, scrawled in graffiti and spoken only by people who were "wiz" (in the know). This hybrid language, dubbed Rotwelsch, facilitated survival for people in flight—whether escaping persecution or just down on their luck. It was a language of the road associated with vagabonds, travelers, Jews, and thieves that blended words from Yiddish, Hebrew, German, Romani, Czech, and other European languages and was rich in expressions for police, jail, or experiencing trouble, such as "being in a pickle." This renegade language unsettled those in power, who responded by trying to stamp it out, none more vehemently than the Nazis.
As a boy, Martin Puchner learned this secret language from his father and uncle. Only as an adult did he discover, through a poisonous 1930s tract on Jewish names buried in the archives of Harvard's Widener Library, that his own grandfather had been a committed Nazi who despised this "language of thieves." Interweaving family memoir with an adventurous foray into the mysteries of language, Puchner crafts an entirely original narrative. In a language born of migration and survival, he discovers a witty and resourceful spirit of tolerance that remains essential in our volatile present.
About the Author
---
Martin Puchner, the Byron and Anita Wien Professor of English and Comparative Literature at Harvard University, is a prize-winning author, educator, public speaker, and institution-builder in the arts and humanities. He lives in Cambridge, Massachusetts.
Praise For…
---
A deeply personal project, one that probes the meaning of language and family, inheritance and debt...[Puchner's enthusiasm] inspires illuminating detours into subjects like the history of Esperanto and the birth of simultaneous interpretation at the Nuremberg trials. What endures is his fascination with the resourcefulness and resilience of generations of travelers, like the ones who came to his childhood home in Nuremberg, drawn by a hidden zinken.
— Corinna da Fonseca-Wollheim - New York Times Book Review

The Language of Thieves is a revelation: in telling the story of an underground language, Martin Puchner exposes a hidden corner of Europe's—and his own family's—surprising past. Entirely original, infectiously curious, by turns playful and poignant, it offers at once a fresh, fascinating insight into history and a thoughtful meditation on identity and belonging. The book sings with Puchner's pleasure in the power of words to move, delight, deceive, and connect us.

— Maya Jasanoff, author of The Dawn Watch

Martin Puchner's The Language of Thieves is at its core a gripping autobiography dealing with the actions of non-Jewish Germans, both victims and perpetrators, in the Third Reich and their legacy to their children and—in Puchner's case—their grandchildren. A brilliantly written, compelling read about language, displacement, and how the past forms all of us today.

— Sander L. Gilman, author of Jewish Self-Hatred: Anti-Semitism and the Hidden Language of the Jews

Puchner, a professor of English and Comparative Literature at Harvard, brilliantly integrates the personal and the professional in this intriguing account of his quest to learn as much as possible about Rotwelsch…Rich with insight and vivid character sketches, this moving and well-informed cultural history deserves a wide readership.
— Publishers Weekly (starred review)

 A compelling mixture of memoir and philology.
— Kirkus