Citadels of Pride: Sexual Abuse, Accountability, and Reconciliation (Paperback)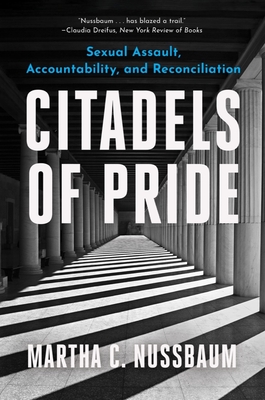 Description
---
A groundbreaking exploration of sexual violence by one of our most celebrated experts in law and philosophy.
In this essential philosophical and practical reckoning, Martha C. Nussbaum, renowned for her eloquence and clarity of moral vision, shows how sexual abuse and harassment derive from using people as things to one's own benefit—like other forms of exploitation, they are rooted in the ugly emotion of pride. She exposes three "Citadels of Pride" and the men who hoard power at the apex of each. In the judiciary, the arts, and sports, Nussbaum analyzes how pride perpetuates systemic sexual abuse, narcissism, and toxic masculinity. The courage of many has brought about some reforms, but justice is still elusive—warped sometimes by money, power, or inertia; sometimes by a collective desire for revenge.
By analyzing the effects of law and public policy on our ever-evolving definitions of sexual violence, Nussbaum clarifies how gaps in U.S. law allow this violence to proliferate; why criminal laws dealing with sexual assault and Title VII, the federal law that is the basis for sexual harassment doctrine, need to be complemented by an understanding of the distorted emotions that breed abuse; and why anger and vengeance rarely achieve lasting change.
Citadels of Pride offers a damning indictment of the culture of male power that insulates high-profile abusers from accountability. Yet Nussbaum offers a hopeful way forward, envisioning a future in which, as survivors mobilize to tell their stories and institutions pursue fair and nuanced reform, we might fully recognize the equal dignity of all people.
About the Author
---
Martha C. Nussbaum is the Ernst Freund Distinguished Service Professor of Law and Ethics at the University of Chicago, appointed in the law school and philosophy department. She is the author of numerous books and articles on moral, legal, and political philosophy, and recipient of many awards, including the Berggruen Prize, one of the world's most significant recognitions for public intellectuals. She lives in Chicago, Illinois.
Praise For…
---
In Citadels of Pride, Martha C. Nussbaum shines a light on long-standing and deep-rooted issues of sexual harassment and assault that continue to plague big-time sports and lays out a provocative plan for controlling institutions to become leaders in effecting change. Not everyone will agree with her recommendations, but this book should be mandatory reading for anyone who cares deeply about the need for reform.

— Adam Silver, commissioner of the National Basketball Association

Martha C. Nussbaum brings unflinching clarity and wisdom to illuminate shame and pride, the operations of power and retribution surrounding sexual violence and intimidation. Nussbaum's distinctive fusion of law and philosophy exposes failures of recent reforms and points toward constructive future paths.
— Martha Minow, former dean of Harvard Law School

The renowned philosopher looks at the intersection of toxic male pride and sexual abuse...There's a variety of insights to be gleaned from any Nussbaum book, and her comments here are sure to set sports-talk radio shows on fire in Tuscaloosa, Columbus, and beyond.
— Kirkus

Nussbaum is a clear and compelling thinker whose work on the law has always been refreshing and bracing.
— Madhavi Menon - Times Literary Supplement

On many levels, those interested in justice-seeking law reform in the area of sexual assault and harassment can look to this book for inspiration. Nussbaum has a rare ability to articulate genuine compassion in connection with complex ethical situations, and to spell out what that compassion requires. She writes with crystalline style.
— Aidan Johnson - Globe and Mail