Brightly Burning (Hardcover)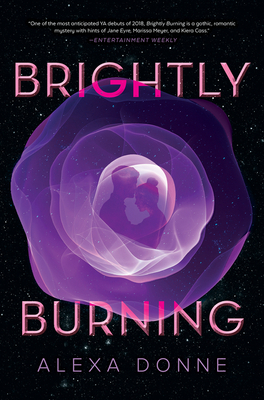 Description
---
"One of the most anticipated YA debuts of 2018, Brightly Burning is a gothic, romantic mystery with hints of Jane Eyre, Marissa Meyer, and Kiera Cass." —Entertainment Weekly
"Brightly Burning delivers a brooding gothic mystery and a swoony romance, all set in space. Donne's atmospheric, twisty update of a cherished classic will keep you up late into the night!" —Elly Blake, NYT bestselling author of the Frostblood Saga
Stella Ainsley leaves poverty behind when she quits her engineering job aboard the Stalwart to become a governess on a private ship. On the Rochester, there's no water ration, more books than one person could devour in a lifetime, and an AI who seems more friend than robot.
But no one warned Stella that the ship seems to be haunted, nor that it may be involved in a conspiracy that could topple the entire interstellar fleet. Surrounded by mysteries, Stella finds her equal in the brooding but kind nineteen-year-old Captain Hugo. When several attempts on his life spark more questions than answers, and the beautiful Bianca Ingram appears at Hugo's request, his unpredictable behavior causes Stella's suspicions to mount. Without knowing who to trust, Stella must decide whether to follow her head or her heart.
Alexa Donne's lush and enthralling reimagining of the classic Jane Eyre, set among the stars, will seduce and beguile you.
About the Author
---
Alexa Donne is the author of young adult thrillers The Ivies, a YALSA Teens' Top Ten Winner, and the Edgar Award Nominated Pretty Dead Queens, as well as young adult sci-fi romance retellings Brightly Burning and The Stars We Steal. By day, she lives in Los Angeles and works in television marketing. The rest of the time she contemplates creative motives for murder and takes too many pictures of her cats. You can find her in most places @alexadonne.
Praise For…
---
Praise for Brightly Burning  "One of the most anticipated YA debuts of 2018, Brightly Burning is a gothic, romantic mystery with hints of Jane Eyre, Marissa Meyer, and Kiera Cass." --Entertainment Weekly "Brightly Burning delivers a brooding gothic mystery and a swoony romance, all set in space. Donne's atmospheric, twisty update of a cherished classic will keep you up late into the night!" —Elly Blake, NYT bestselling author of the Frostblood Saga "A gripping examination of class, romance, and survival set in a dystopian future that feels chillingly relevant to our present times."--Kirkus "Jane Eyre gets a futuristic reimagining in this appealing YA drama."--Publishers Weekly "This ought to hook readers across genres."--Booklist   —