The Story of Humans: From Prehistory to the Present (Hardcover)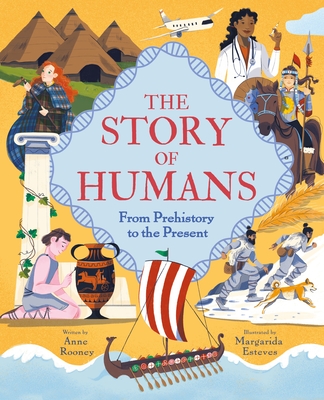 List Price: $16.99
Our Price: $14.99
(Save: $2.00 12%)
Description
---
In this beautifully illustrated full-color hardback, young readers can journey through the history of humankind - from prehistory to the silicon age - and discover the developments that shaped our world.
Award-winning author Anne Rooney explores how humans evolved from simple primates to become the planet's most dominant life-form. Readers can learn about human evolution, early hunter-gatherer societies and the emergence of the civilizations we recognize today. Featuring fun fact boxes, an illustrated timeline and a glossary of key terms,
The Story of Humans
presents information in a clear, easy-to-understand and entertaining way. Subjects include:
- How speech first emerged
- How cooking helped our large brains to develop
- Why we stopped hunting, and became farmers
- How dogs and livestock came to live alongside us
- The origins of money
- The invention of the written word
- The rise of cities
- The rise of the nation
- The industrial revolution
- How modern technology has reshaped the planet in humans' image Covering topics including biology, geography and history, this book is packed with stories and facts that will captivate young readers and inspire a lifelong love of learning. Perfect for readers aged 8+.
ABOUT THE SERIES:
The Story of Everything
is a beautifully illustrated series for young readers which tells the story of life as we know it, from the big bang to evolution and the history of human development.
About the Author
---
Anne Rooney is an award-winning author who writes on science and the history of science for children and adults. Her Dinosaur Atlas was shortlisted for the Royal Young People's Book Award 2018 and won the School Library Association Information Book Award (ages 7-12), 2018. She has a degree and a PhD from Trinity College, Cambridge and has been a Royal Literary Fund Fellow at Newham College, Cambridge. Her books have been translated into 22 languages. Margarida Esteves is an experienced illustrator and visual artist, living and working in London. She studied at Camberwell College of Arts UAL and has worked for a variety of top publishers, including Walker Books and Macmillan.