There are no products in your shopping cart.
Beloved (Vintage International) (Paperback)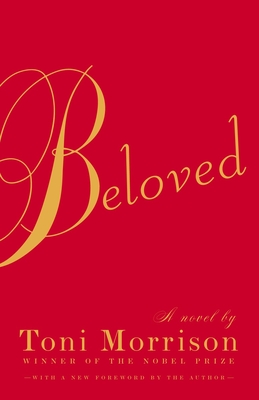 Description
---
Staring unflinchingly into the abyss of slavery, this spellbinding New York Times bestseller transforms history into a story as powerful as Exodus and as intimate as a lullaby.

Sethe, its protagonist, was born a slave and escaped to Ohio, but eighteen years later she is still not free. She has too many memories of Sweet Home, the beautiful farm where so many hideous things happened. And Sethe's new home is haunted by the ghost of her baby, who died nameless and whose tombstone is engraved with a single word: Beloved. Filled with bitter poetry and suspense as taut as a rope, Beloved is a towering achievement.

"You can't go wrong by reading or re-reading the collected works of Toni Morrison. Beloved, Song of Solomon, The Bluest Eye, Sula, everything else — they're transcendent, all of them. You'll be glad you read them."--Barack Obama
About the Author
---
Toni Morrison is the author of eleven novels, from The Bluest Eye (1970) to God Help the Child (2015). She received the National Book Critics Circle Award, the Pulitzer Prize, and in 1993 she was awarded the Nobel Prize in Literature. She died in 2019.
Praise For…
---
"A masterwork. . . . Wonderful. . . . I can't imagine American literature without it." —John Leonard, Los Angeles Times

"A triumph." —Margaret Atwood, The New York Times Book Review

"Toni Morrison's finest work. . . . [It] sets her apart [and] displays her prodigious talent." —Chicago Sun-Times

"Dazzling. . . . Magical. . . . An extraordinary work." —The New York Times

"A masterpiece. . . . Magnificent. . . . Astounding. . . . Overpowering." —Newsweek

"Brilliant. . . . Resonates from past to present." —San Francisco Chronicle

"A brutally powerful, mesmerizing story. . . . Read it and tremble." —People

"Toni Morrison is not just an important contemporary novelist but a major figure in our national literature." —New York Review of Books

"A work of genuine force. . . . Beautifully written." —The Washington Post

"There is something great in Beloved: a play of human voices, consciously exalted, perversely stressed, yet holding true. It gets you." —The New Yorker

"A magnificent heroine . . . a glorious book." —The Baltimore Sun

"Superb. . . . A profound and shattering story that carries the weight of history. . . . Exquisitely told." —Cosmopolitan

"Magical . . . rich, provocative, extremely satisfying." —Milwaukee Journal

"Beautifully written. . . . Powerful. . . . Toni Morrison has become one of America's finest novelists." —The Plain Dealer

"Stunning. . . A lasting achievement." —The Christian Science Monitor

"Written with a force rarely seen in contemporary fiction. . . . One feels deep admiration." —USA Today

"Compelling . . . . Morrison shakes that brilliant kaleidoscope of hers again, and the story of pain, endurance, poetry and power she is born to tell comes right out." —The Village Voice

"A book worth many rereadings." —Glamour

"In her most probing novel, Toni Morrison has demonstrated once again the stunning powers that place her in the first ranks of our living novelists." —St. Louis Post-Dispatch

"Heart-wrenching . . . mesmerizing." —The Atlanta Journal-Constitution

"Shattering emotional power and impact." —New York Daily News

"A rich, mythical novel . . . a triumph." —St. Petersburg Times

"Powerful . . . voluptuous." —New York

Coverage from NPR