There are no products in your shopping cart.
A Million Nightingales (Paperback)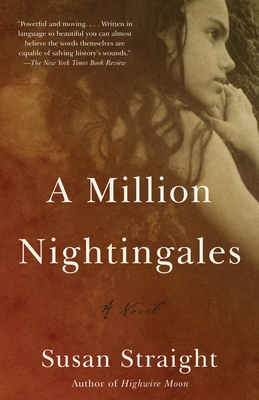 This book is no longer available.
Description
---
From National Book Award finalist Susan Straight comes a haunting historical novel about a Louisiana slave girl's perilous journey to freedom.Daughter of an African mother and a white father she never knew, Moinette is a house maid on a plantation south of New Orleans. At fourteen she is sold, separated from her mother without a chance to say goodbye. Bright, imaginative and well aware of everything she risks, Moinette at once begins to prepare for an opportunity to escape. Inspired by a true story, A Million Nightingales portrays Moinette's experience–and the treacherous world she must navigate–with uncommon richness, intricacy, and drama.
About the Author
---
Susan Straight's novels include I Been in Sorrow's Kitchen and Licked Out All the Pots, Blacker Than a Thousand Midnights, The Gettin Place and Highwire Moon, which was a finalist for The National Book Award. Her essays have appeared in Harper's, Salon.com, The Los Angeles Times Magazine, The New York Times, and on NPR's All Things Considered, as well as in women's magazines such as Real Simple and Family Circle. Her short stories have appeared in McSweeney's and Zoetrope, among other publications. Among her honors and awards are the California Book Prize, a Lannan Foundation Award, A Guggenheim Fellowship, a Pushcart Prize and a Best American Short Story Award. Straight was born in Riverside and lives there with her three daughters.
Praise For…
---
"Powerful and moving. . . . Written in language so beautiful you can almost believe the words themselves are capable of salving history's wounds."—The New York Times Book Review"Radiant. . . . Unforgettable, a classic haunting story of love, tragedy and perseverance."—The Miami Herald"Moving. . . . Lush passages drip like Spanish moss from Straight's proseÉ[she] writes with nuance and insinuating grace."—The Seattle Times"Intelligent and heartbreaking. . . . Celebrates the individual's power to create a personal freedom within the most rigid social order."—The Portland Oregonian