Biblia Católica de Apuntes, Tapa Dura, Tela, Azul (Hardcover)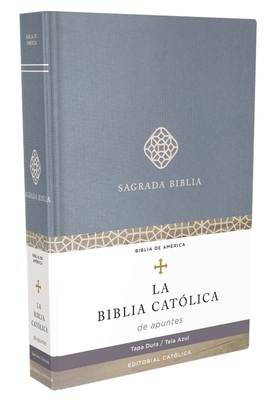 $39.99

Usually arrives at our store within 4-7 days
Description
---
Mucho m's que una Biblia de notas
La Biblia de Apuntes versi n cat lica, es perfecta para quienes desean interactuar m's profundamente con las Escrituras tomando notas, escribiendo en un diario art stico o copiando a mano sus vers culos favoritos. Con sus m rgenes amplios y su papel b blico grueso y opaco, esta hermosa edici n de la Biblia le invita a registrar sus interacciones con la Palabra de Dios.
Sobre la Biblia de Am rica
Esta traducci n completa de los textos originales est aprobada por la Conferencia Episcopal de M xico y con la autoridad de las Conferencias Episcopales de Colombia y Chile. Su car cter pastoral, una importante consideraci n del equipo de traducci n, formado por m's de 40 destacados estudiosos de la Escritura, la convierte en una excelente opci n tanto para los laicos como para los religiosos y sacerdotes.
Caracter sticas
Canon cat lico completo de la traducci n Biblia de Am rica
Exclusivo tipo de letra Comfort Print (R) de Editorial Cat lica
Formato de texto b blico a una columna
Amplios m rgenes para notas y creatividad
Citas de pasajes paralelos
Vocabulario b blico
Interior a dos colores
Cinta marcadora
Catholic Journaling Bible (Spanish language), cloth-over-boards, blue
Much more than a Bible of notes
The beautifully designed journal edition of the Catholic Bible is perfect for anyone who wants to interact more deeply with the Scriptures through notetaking, art journaling, or hand-copying favorite verses. With its extra wide margins and thick, opaque Bible paper, this special edition of the Scriptures invites you to keep record of your interactions with the Word of God.
About la Biblia de America
This complete translation from the original texts is approved by the Episcopal Conference in Mexico and with the authority of the Episcopal Conferences in Colombia and Chile. Its pastoral character, an important consideration of the translation team of more than 40 leading Scripture scholars, makes it an excellent choice for laypeople as well as for religious and priests.
Complete Catholic Bible
Catholic Comfort Print(R) typeface
Single Column format
Dotted wide margins
Parallel Passages
Biblical vocabulary
Two-color interior
Ribbon markers allows you to easily navigate and keep track of where you were reading