An Impeccable Spy: Richard Sorge, Stalin's Master Agent (Hardcover)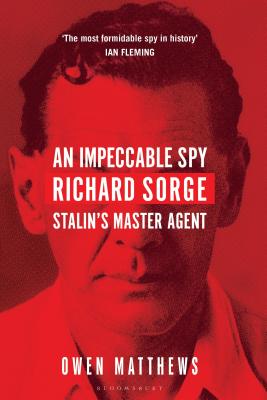 This item is not available.
Description
---
The thrilling true story of Richard Sorge-the Soviet intelligence operative John le Carré called "the spy to end spies."

Richard Sorge moved in a world of shifting alliances and infinite possibility. Born to a German mother and a Russian father, Sorge became a fanatical communist-and the Soviet Union's most formidable spy.

Like many great spies, Sorge was an effortless seducer, combining charm with a ruthless manipulation. He did not have to go snooping to find out closely guarded state secrets-his victims willingly shared them. Hiding in plain sight as a foreign correspondent, he infiltrated and influenced the highest echelons of German, Chinese, and Japanese society in the years leading up to and including World War II. His intelligence proved pivotal to the Soviet counteroffensive in the Battle of Moscow, which determined the outcome of the war.

Owen Matthews, author of Stalin's Children, captures the sweep of history and draws on a wealth of declassified Soviet documents and testimonials to tell the riveting story of the man Ian Fleming described as "the most formidable spy in history."
About the Author
---
Owen Matthews studied Modern History at Oxford University before beginning his career as a journalist in Bosnia. He has written for the Moscow Times, The Times, the Spectator and the Independent. In 1997, he became a correspondent at Newsweek magazine in Moscow where he covered the second Chechen war, Afghanistan, Iraq and the conflict in Eastern Ukraine. His first book on Russian history, Stalin's Children, was translated into twenty-eight languages and shortlisted for The Guardian First Books Award and France's Prix Médicis.
Praise For…
---
"this impressive biography has uncovered the loneliness and turmoil of Sorge's inner life and widened our understanding of one of the most important — yet least known — Soviet spies." - The New York Times

"A remarkable work about a complicated and relatively unknown individual. Highly recommended as a valuable contribution to Soviet spy literature and 20th-century history." —Library Journal, Starred Review

"[A] vivid biography… This exhaustive, crisply written portrait of "one of the greatest spies who ever lived" will fascinate espionage fans." —Publishers Weekly

"A superb biography … Alive to Sorge's human flaws as much as to his professional competence, and with a salutary vein of anger running through it … More than a hundred books have been written about him and this is undoubtedly the best: detailed, wry, sympathetic and occasionally oddly moving" —Ben Macintyre, The Times

"A fascinating biography ... Owen Matthews tells the story of Sorge's extraordinary life with tremendous verve and expertise and a real talent for mise en scène. Shanghai in the 1930s and prewar Tokyo, Sorge's stamping grounds, come vividly alive in these pages and the portrait of Sorge himself that emerges is richly authentic" —William Boyd, New Statesman

"Fans of Alan Furst and similar authors will find this true-espionage story fascinating." —Kirkus Reviews

"Matthews skillfully combines solid research in Japanese, German, and Soviet archives with a novelistic writing style to offer a gripping and at times astonishing biography of Soviet spy Richard Sorge." - Choice

"Magnificently written … An Impeccable Spy is packed with humour and insight and all served up with a rare lightness of touch … Ben Macintyre and John le Carré fans alike will find themselves very much at home" —Oliver Bullough, Observer

"Brilliant ... A clear-eyed, deeply researched and finely-judged portrait" —Saul David, Telegraph

"Gloriously readable… Every chapter of Matthews's superbly researched biography reads like something from an Eric Ambler thriller." —Sunday Times

"A vividly told story, thoroughly researched and well-crafted … I love a thrilling spy story, especially one as superbly narrated as this, full of Bond-like drama about Sorge's brushes with death, his love of fast cars and women." —The Financial Times

"Sorge's career trajectory makes An Impeccable Spy a solid introduction to the political turmoil gripping much of the world at the time … Matthews does an admirable job trying to peel back his mask … Sorge was a complicated man but an undeniably excellent spy." —Shelf Awareness