Orange County: A Personal History (Paperback)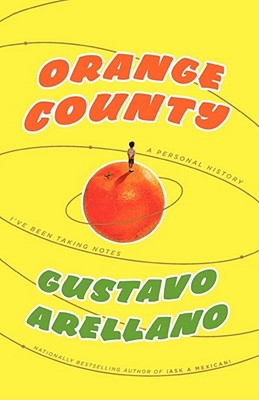 $18.99

Usually arrives at our store within 4-7 days
Description
---
Bestselling author of ¡Ask a Mexican! Gustavo Arellano returns with Orange County, a seamlessly woven history of California's Orange County with Gustavo's personal narrative of growing up within its neighborhoods.

The story began in 1918, when Gustavo Arellano's great-grandfather and grandfather arrived in the United States, only to be met with flying potatoes. They ran, and hid, and then went to work in Orange County's citrus groves, where, eventually, thousands of fellow Mexican villagers joined them. Gustavo was born sixty years later, the son of a tomato canner who dropped out of school in the ninth grade and an illegal immigrant who snuck into this country in the trunk of a Chevy. Meanwhile, Orange County changed radically, from a bucolic paradise of orange groves to the land where good Republicans go to die, American Christianity blossoms, and way too many bad television shows are green-lit.

Part personal narrative, part cultural history, Orange County is the outrageous and true story of the man behind the wildly popular and controversial column ¡Ask a Mexican! and the locale that spawned him. It is a tale of growing up in an immigrant enclave in a crime-ridden neighborhood, but also in a promised land, a place that has nourished America's soul and Gustavo's family, both in this country and back in Mexico, for a century.

Nationally bestselling author, syndicated columnist, and the spiciest voice of the Mexican-American community, Gustavo Arellano delivers the hilarious and poignant follow-up to ¡Ask a Mexican!, his critically acclaimed debut. Orange County not only weaves Gustavo's family story with the history of Orange County and the modern Mexican-immigrant experience but also offers sharp, caliente insights into a wide range of political, cultural, and social issues.
About the Author
---
Gustavo Arellano's ¡Ask a Mexican! column has a circulation of more than two million in thirty-eight markets (and counting). He has received the President's Award from the Los Angeles Press Club, an Impact Award from the National Hispanic Media Coalition, and a 2008 Latino Spirit Award from the California State legislature. Arellano has appeared on the Today show, Nightline, NPR's Talk of the Nation, and The Colbert Report.