There are no products in your shopping cart.
Please call 626-449-5320 to check the availability of this item.
Rube Goldberg's Simple Normal Humdrum School Day (Hardcover)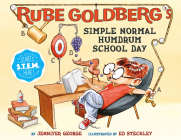 About the Author
---
Jennifer George is the granddaughter of Rube Goldberg. She is the author of The Art of Rube Goldberg and a jewelry and clothing designer. George lives in New York City.
Ed Steckley is an award-winning illustrator whose clients include MAD magazine and innumerable advertising agencies worldwide. He lives in Queens, New York.