Child of the Flower-Song People: Luz Jiménez, Daughter of the Nahua (Hardcover)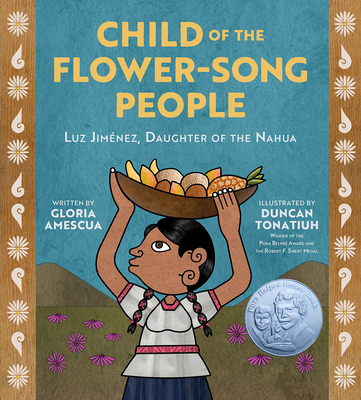 Description
---
Award-winning illustrator Duncan Tonatiuh brings to life debut author Gloria Amescua's lyrical biography of an indigenous Nahua woman from Mexico who taught and preserved her people's culture through modeling for famous artists

A 2022 Pura Belpré Award Author Honor Book

She was Luz Jiménez,
child of the flower-song people,
the powerful Aztec,
who called themselves Nahua—
who lost their land but who did not disappear.

As a young Nahua girl in Mexico during the early 1900s, Luz learned how to grind corn in a metate, to twist yarn with her toes, and to weave on a loom. By the fire at night, she listened to stories of her community's joys, suffering, and survival, and wove them into her heart.

But when the Mexican Revolution came to her village, Luz and her family were forced to flee and start a new life. In Mexico City, Luz became a model for painters, sculptors, and photographers such as Diego Rivera, Jean Charlot, and Tina Modotti. These artists were interested in showing the true face of Mexico and not a European version. Through her work, Luz found a way to preserve her people's culture by sharing her native language, stories, and traditions. Soon, scholars came to learn from her.

This moving, beautifully illustrated biography tells the remarkable story of how model and teacher Luz Jiménez became "the soul of Mexico"—a living link between the indigenous Nahua and the rest of the world. Through her deep pride in her roots and her unshakeable spirit, the world came to recognize the beauty and strength of her people.

The book includes an author's note, timeline, glossary, and bibliography.
About the Author
---
Gloria Amescua loves books that reach a young person's heart, head, or funny bone and strives to do just that in her writing. She is an educator, poet, and children's book writer. She was awarded Lee & Low's 2016 New Voices Honor Award for her manuscript about Luz Jiménez and was named a finalist for the Austin Chapter Cynthia Leitich Smith Mentorship Award and We Need Diverse Books' Mentorship program. A nature lover, Amescua believes in children, pets, and possibilities. This is her debut picture book. She lives in Austin, Texas. Duncan Tonatiuh was born in Mexico City and grew up in San Miguel de Allende. His books have received many awards over the years. He currently lives in San Miguel with his wife and children but travels to the United States often.

Duncan Tonatiuh (toh-nah-tee-YOU) is an award-winning author-illustrator. He is both Mexican and American. He grew up in San Miguel de Allende, Mexico, and graduated from Parsons School of Design and Eugene Lang College in New York City. His artwork is inspired by pre-Columbian art. His aim is to create images and stories that honor the past, but are relevant to today's people, especially children. He currently lives in San Miguel with his family but travels in the United States often.
Praise For…
---
**STARRED REVIEW**
"Amescua's spare yet lyrical text reminds readers that Luz was a 'child of the flower-song people, / . . . who lost their land, but who did not disappear.' She also notes the harsh treatment Luz endured at government schools designed to stifle Indigenous culture. Tonatiuh's signature Mixtec-inspired art is a delight... Luz's traditional stories are depicted as outlined carvings in the mountainous landscape and seem to emanate from Luz's mouth somewhat like a speech balloon."
— Booklist

**STARRED REVIEW**
"Amescua sensitively excavates the compelling story of the woman known as "the spirit of Mexico". . .Tonatiuh's hand-drawn, digitally collaged images mix motifs from Indigenous Mexican art with modern textures, celebrating the endurance and resilience of treasured traditions in a changing world."
— Publishers Weekly

**STARRED REVIEW**
"Tonatiuh's beautiful pre-Columbian illustrations provide a vivid play-by-play of events and evoke Jiménez's ultimate impact on the art world. An author's note gives more historical context, and a time line, glossary, and bibliography make this a valuable source for student researchers."
— School Library Journal

"Threaded with cultural insights, poetic language, and stylized art, Jiménez comes to life. . .. A timely and thought-provoking true story."
— Donna Janell Bowman, author of King of the Tightrope

"Child of the Flower-Song People is a gift to young readers, all of whom should know how Luz Jiménez carried on the skills, beauty, and pride of native Mexican people."
— Cynthia Levinson, author of The People's Painter

"Child of the Flower-Song People deftly balances fascinating biographical moments with an earnest sense of social justice for the indigenous people of Mexico."
— David Bowles, author of My Two Border Towns

"Tonatiuh's hand-drawn, digitally collaged illustrations, with an iconographic nod to the Mixtec codices, are rich in color and texture. Indeed, it's this complicated relationship between old traditions and modern influences that make his art such a good complement to Amescua's text."
— The Horn Book Magazine

"Amescua enhances her flowing prose with natural imagery (mountains, winds, blossoms), as if Amescua is re-grounding Luz's Nahua identity into the very earth. Tonatiuh's magnificent signature style. . .couldn't be more ideal for animating Amescua's illuminating text. . .This perfectly paired collaboration provides both reclamation and revelation."
— Shelf Awareness

"Amescua succeeds in introducing Luz. . .Closely following the text, the illustrations bring Luz to life. An important window into the ravages of colonialism and the plight of the Indigenous peoples of Mexico."
— Kirkus Reviews