Walker's Mammals of the World: Monotremes, Marsupials, Afrotherians, Xenarthrans, and Sundatherians (Hardcover)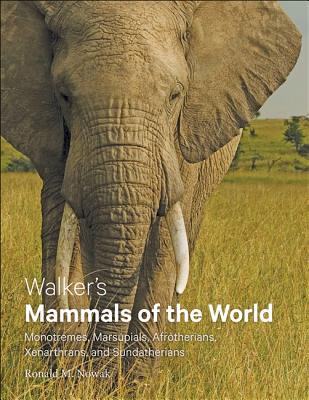 Description
---
The preeminent guide to the world's mammals is now enhanced with a dramatically expanded volume covering 19 orders, including such creatures as elephants, armadillos, and manatees.
Since its first publication in 1964, Walker's Mammals of the World has become a favorite guide to the natural world for general readers and professionals alike. This new Walker's volume is a completely revised and updated compendium of information on five of the earliest clades to diverge from ancient mammal stock. Uniquely comprehensive in inimitable Walker's style, it incorporates a full account of every genus that has lived in the past 5,000 years. Every named species of each genus is listed in systematic order and accompanied by detailed descriptions of past and present range.
This new edition includes
- 500+ full-color images throughout
- citations to more than 2,200 new references
- extensive bioconservation data, with discussion of every species in an IUCN Red List threatened category
This volume's thorough updates reflect 20 years of advances in our knowledge of taxonomy, ecology, behavior, life history, and conservation. Substantive changes to 100% of previously existing generic accounts, plus the addition of 17 entirely new generic accounts, double the information in the last edition on the 19 orders covered. The black-and-white illustrations of earlier editions have been replaced by over 500 superb new color images.
Remaining true to Ernest P. Walker's vision, the text smoothly combines in-depth scholarship with a popular, readable style to preserve and enhance what the Washington Post called a "landmark of zoological literature."
About the Author
---
Ernest P. Walker (1891-1969) was the assistant director of the National Zoo. He began work on Mammals of the World in the early 1930s. Ronald M. Nowak was a staff mammalogist at the former Office of Endangered Species, US Department of the Interior. He is the coauthor of the fourth edition and the author of the fifth and sixth editions of Walker's Mammals of the World.