Dream It! Do It!: My Half-Century Creating Disney's Magic Kingdoms (Disney Editions Deluxe) (Hardcover)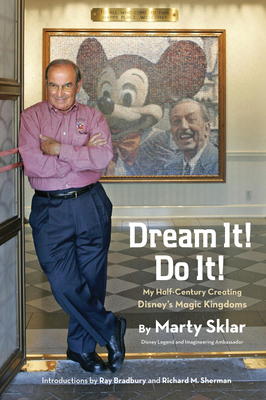 $24.99

Usually arrives at our store within 4-7 days
Description
---
Part memoir, part business book, Marty Sklar entertains readers with more than fifty years of tales of creating magic around the world.
Marty Sklar was hired by The Walt Disney Company after his junior year at UCLA, and began his Disney career at Disneyland in July 1955, the month before the park opened. He spent his first decade at Disney as "the kid," the very youngest of the creative team Walt had assembled at WED Enterprises. But despite his youth, his talents propelled him forward into substantial responsibility: he became Walt's speech writer, penned Walt's and Roy's messages in the company's annual report, composed most of the publicity and marketing materials for Disneyland, conceived presentations for the U.S. government, devised initiatives to obtain sponsors to enable new Disneyland developments, and wrote a twenty-four-minute film expressing Walt's philosophy for the Walt Disney World project and Epcot. He was Walt's literary right-hand man.
Over the next forty years, Marty Sklar rose to become president and principal creative executive of Walt Disney Imagineering, and he devoted his entire career to creating, enhancing, and expanding Walt's magical empire.
This beautifully written and enlightening book is Marty's own retelling of his epic Disney journey, a grand adventure that lasted over half a century.
Searching for that perfect gift for the #1 Disney fan in your life? Explore more behind-the-scenes stories from Disney Editions:
Travels with Figment: On the Road in Search of Disney Dreams (By Disney Legend Marty Sklar)

One Little Spark! Mickey's Ten Commandments and The Road to Imagineering (By Disney Legend Marty Sklar)

Magic Journey: My Fantastical Walt Disney Imagineering Career (By Kevin Rafferty)

Travels with Walt Disney: A Photographic Voyage Around the World (By Jeff Kurtti)

Eat Like Walt: The Wonderful World of Disney Food (By Marcy Carriker Smothers)

Walt Disney: An American Original (By Bob Thomas)

Disney A to Z: The Official Encyclopedia, Fifth Edition (By Disney Legend Dave Smith)

Disney Facts Revealed: Answers to Fans' Curious Questions (By Disney Legend Dave Smith)

Disney Trivia from the Vault: Secrets Revealed and Questions Answered (By Disney Legend Dave Smith)

My Pride: Mastering Life's Daily Performance from Broadway's Record-Breaking Lion King (By Alton Fitzgerald White)

Be Our Guest: Perfecting the Art of Customer Service, Revised and Updated Edition (By The Disney Institute)

About the Author
---

Marty Sklar was a student at UCLA and editor of its Daily Bruin newspaper in 1955 when he was recruited to create an 1890s-themed newspaper, The DisneylandNews, a month before the theme park opened. After graduating, he joined Disneyland full-time in 1956, where he held responsibility for most of the park's publicity and marketing materials.

In 1961, he moved to WED Enterprises, renamed in 1986 to Walt Disney Imagineering, where he worked on attractions for the 1964 New York World's Fair. For nearly ten years, he wrote personal materials for Walt Disney for use in publications, television and special films. In 1974 he became vice president of concepts/planning, and guided the creative development of EPCOT.

As vice president of creative development, executive vice president and then president of Imagineering for nine years, Sklar supervised the design and construction of Tokyo Disneyland, the Disney-MGM Studios, Disneyland Paris, Disney's Animal Kingdom, Disney California Adventure Park, Tokyo DisneySea, the Walt Disney Studios Park and most recently Hong Kong Disneyland.