National Geographic Yellowstone and Grand Teton National Parks Road Guide: The Essential Guide for Motorists (Paperback)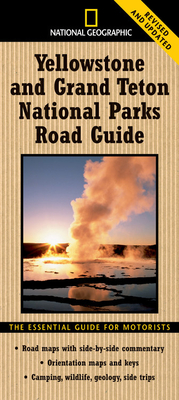 Description
---
When the scenery out the car window is breathtaking, drivers and their passengers want maximum gaze time. Our popular road guide, completely revised and updated, features contiguous text and maps so visitors can follow the maps and descriptions as they drive along. The book's efficient design eliminates having to flip back and forth between maps and text and count odometer mileage—a major frustration of other road guides.

This indispensable guide tracks the major roads within Yellowstone National Park and its neighbor Grand Teton National Park. Detailed topographical maps point out where to look for wildlife such as mountain goats, bighorn sheep, elk, deer, and bear; geological formations; historical sites; and plants. Also included are locations for camping, fishing, and boating within the Wyoming parks.

Several pages of maps and accompanying text cover the popular Grand Loop Road, describing the formation of the 308-foot Lower Falls, Yellowstone Canyon's best views from Artist's Point, and how Mud Volcano lives up to its name. This road guide not only helps visitors find their way around but also makes the trip richer, more interesting, and more enjoyable.
About the Author
---
Jeremy Schmidt spent seven years living in Yellowstone, working as a winterkeeper, ranger, and photographer. He has written numerous books on the Rockies.

Steven Fuller is a world famous adventurer, traveler, lecturer, author, photographer, and 30-year resident of Yellowstone National Park.