National Geographic Countries of the World: Mexico (Paperback)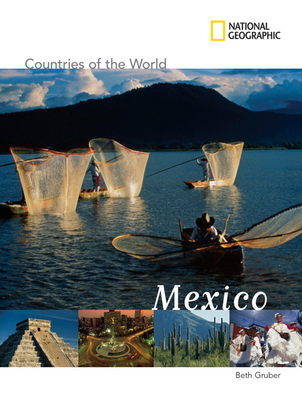 Description
---
Join National Geographic's quest to find the heart and soul of Mexico.

Journey through a land of incredible biodiversity, from the Rio Grande to the Sierra Madre. Visit Mexico City, the vast metropolis built on an ancient lake bed. Study the country's history of earthquakes and volcanoes and its current struggles to protect animal habitats.

Explore Mexico's history as the center of the Olmec, Maya, and Aztec civilizations in Beth Gruber's lively text. Learn how the country's borders once extended north to Southern Wyoming, west to California, and east to Louisiana. Witness the cultural and political aftereffects of Spanish Catholicism and discover how the hacienda system of agriculture led to revolution.

The author also explains the importance of family and traditions in Mexican culture and the country's rich artistic heritage.

Finally, readers will come to understand the disappointments of the Revolution, the limits of the single-party system, social inequalities, the economy, emigration to the United States, and the effects of the tourist boom on the environment.
About the Author
---
Beth Gruber is a graduate of the New York University School of Journalism. She has worked in children's publishing for almost 20 years as an author, an editor, and a reviewer of books for young readers. Ms. Gruber is also the author of National Geographic Investigates: Ancient Inca and National Geographic Countries of the World: Mexico.
 Living Spain