Remember the Alamo: Texians, Tejanos, and Mexicans Tell Their Stories (Library Binding)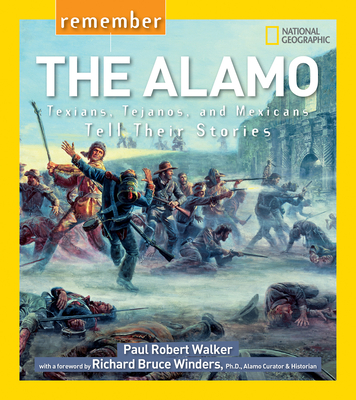 $17.90

Usually arrives at our store within 4-7 days
Description
---
Remember the Alamo presents a fresh look at one of the most famous battles in American history. The story has been told countless times in everything from comic books to feature films. Always it is the brave Americans—Jim Bowie, Davy Crockett, William Travis, and others—fighting the overwhelming forces of a cruel dictator for the right to live in a Texas independent of Mexican rule. Too often, little mention is made of the Tejanos—Mexican Texans—who put their lives on the line to fight alongside the other defenders at the Alamo. And what about Santa Anna? Was he so wrong in trying to keep Americans from taking over his country? Clearly there is more to the story.

Paul Robert Walker has studied the evidence—messages sent out from the Alamo before the battle, reports written by Tejano and Texian leaders, eyewitness accounts from a slave and the handful of women and children who were spared by Santa Anna, and stories told by Mexican officers and soldiers. He has consulted with experts, examined the historic sites, and read the most recent scholarly theories to present the story of the Alamo through the eyes of Texians, Tejanos, and Mexicans as you've never heard it before.

National Geographic supports K-12 educators with ELA Common Core Resources.
Visit www.natgeoed.org/commoncore for more information.
About the Author
---
Paul Robert Walker is the author of many books for young people on a wide range of subjects. A former teacher, journalist, and rock musician, his most recent book for National Geographic is Remember Little Bighorn. Walker lives in Escondido, CA.