There are no products in your shopping cart.
Please call 626-449-5320 to check the availability of this item.
Blind Item (Compact Disc)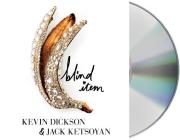 $50.99
Special Order - Subject to Availability
Description
---
"This book is as outrageous as any true life tabloid scandal--and is a must read "
--Jenny McCarthy, talk show host, actress and New York Times-bestselling author of Belly Laughs
No one knows her name, but now everyone wants to.
As an assistant publicist in Hollywood, Nicola spends her days (and nights) sweeping up the scandals of singers, movie stars, and TV actors. Fresh from Ohio, she's rapidly discovering the real Hollywood is rotten under its glittering skin. Everyone is a hustler with a hard bottom line and a soap opera sob story.
When she breaks her own rules and starts dating a movie star, the Los Angeles scene starts to spill into her own life. As the paparazzi begin the hunt for sexy star Seamus O'Riordan's new mystery girl, Nicola's best friend Billy has her back while he prowls parties for the latest scoop to sell to the tabloids. Her roommate Kara keeps tabs on things too--in between befriending a former child star and transforming herself from stylist to reality TV sensation.
As the scandals pile up behind them, their pasts will be exposed... And every secret can be sold.
Written by two Hollywood insiders, Kevin Dickson and Jack Ketsoyan, Blind Item's jaw-dropping scandals are real, but the names are not. And they'll never tell.
An Imprint Book
About the Author
---
Jack Ketsoyan is a veteran publicist in Hollywood, who's spent most of his time on the other side of the velvet rope. He has worked for the big agencies such as PMK, representing stars like Jennifer Lopez. He now runs his own boutique agency, EMC Bowery. Jack has occasionally specialized in crisis PR, helping stars deal with sudden scandals.Kevin Dickson has been an entertainment journalist for 25 years. For many years he worked as an editor at tabloids In Touch and Life & Style where his friendships with celebrities took him behind the scenes in Hollywood in a way that very few journalists ever get to experience.Blind Item is their debut novel.