The Trinity: An Introduction (Paperback)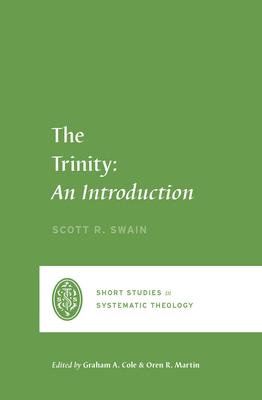 $15.99

Usually arrives at our store within 4-7 days
Description
---
The Trinity is one of the most essential doctrines of the Christian faith.
The eternal God existing as three distinct persons--Father, Son, and Spirit--can be difficult to comprehend. While Christians often struggle to find the right words to describe this union, the Bible gives clarity concerning the triune God's being and activity in nature (creation), grace (redemption), and glory (reward). In this concise volume, theologian Scott Swain examines the doctrine of the Trinity, presenting its biblical foundations, systematic-theological structure, and practical relevance for the church today.
About the Author
---
Scott R. Swain (PhD, Trinity Evangelical Divinity School) serves as president and James Woodrow Hassell Professor of Systematic Theology at Reformed Theological Seminary in Orlando, Florida. He is the author or editor of several books, including The God of the Gospel and Retrieving Eternal Generation. Scott and his wife, Leigh, reside in Orlando, Florida, with their four children. Swain is an ordained minister in the Presbyterian Church in America.Graham A. Cole (ThD, Australian College of Theology) is the dean and professor of biblical and systematic theology at Trinity Evangelical Divinity School. An ordained Anglican minister, he has served in two parishes and was formerly the principal of Ridley College. Graham lives in Libertyville, Illinois, with his wife, Jules. He is a member at Church of the Redeemer in Highwood, Illinois.Oren R. Martin (PhD, The Southern Baptist Theological Seminary) is assistant professor of Christian theology and program coordinator for the seminary track at Boyce College. He serves as a pastor at Clifton Baptist Church in Louisville, Kentucky, and is the author of Bound for the Promised Land.