Golden Autumn 1 Piano Sheet Music: Original Solo Piano Pieces (Paperback)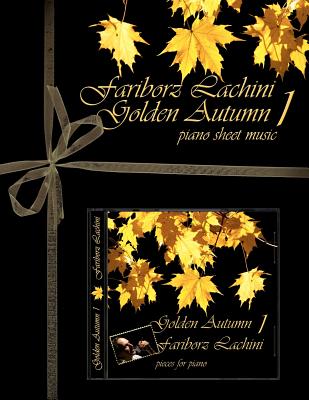 $30.00

Usually arrives at our store within 4-7 days
Description
---
"Golden Autumn 1" is the first installment in Iranian/Canadian composer/pianist Fariborz Lachini's celebrated series of piano albums called Golden Autumn that includes his original writings for solo piano, some of which were originated from the themes he created for film scores. It was first released right after the dark years of Iran/Iraq war. Crossing all barriers, the album quickly became the most popular album in Iran and made Lachini's a household name. Since then his solo piano books have been taught by music teachers in Iran. This is the companion songbook for Fariborz Lachini's CD with the same name.
Autumn, Autumn, Autumn
'Twas a Soft Autumn (/Autumn Lightness)
Autumn Was Lost in the Leaves
In Autumn the Leaves Came to Our House
'Twas Uprising of the Leaves, 'Twas Autumn
Perplexed, I Reached the Edge of Autumn
Faces Lost in the Autumn Leaves
In My Little Autumn, the Trees Had Only One Leaf
In A Corner Of the Sky Were the Leaves of Autumn
Confused, the Leaves Went to the Sea
'Twas the Morning of the Leaves, 'Twas Autumn
You Were a Guest in Our House in Autumn
The Autumn Leaves Went Towards Winter
The End of Autumn
Without Autumn

ISMN: 979-0-706060-00-2
Corresponding MP3s: http: //www.amazon.com/Golden-Autumn-1-Pieces-Piano

Single Sheet Music or complete downloadable eBook, compatible with Kindle/iPad/other eBook readers, in PDF format is available from artist's official website for download using your same amazon.com account: http: //www.lachini.com
About the Author
---
For Iranian-Canadian composer Fariborz Lachini, writing music has been a thirty-year journey of creative expression with roots in colorful and less-heard Persian melodies. In his twenties and just before Iran's Islamic Revolution, Lachini had already achieved success in the world of pop music, creating music for the some of today's Persian pop icons as well as music for children. Most kinds of music were banned in Iran after the Revolution, so Lachini moved to France to study music and computers. Living in Europe and studying at "Universite de Paris - Sorbonne" added a European flavor to Lachini's music and influenced his style to become a distinctive and beautiful fusion of contemporary Persian and European styles. He also learned the technology to create exotic sampled Middle Eastern instruments, immediately putting him in a unique position when he entered the world of film music. The score for the Berlin Special Mention winner, Snake's Fang (1991), is an example of this. Variety comments: "...The exceptional music is a computerized version of traditional southern Iranian percussion. Soundtrack sets the pace and signals both danger and action throughout the film." Lachini released his first solo piano album, Golden Autumn, in the early nineties. Crossing all of the barriers with this music, the album quickly became the most popular record album in Iran. It made Lachini's a household name and he became known as the godfather of Iran's contemporary piano. A track from Golden Autumn 1 is now featured on iTunes Essentials - Classical World compilation, showing Lachini to be one of the few non-Western artists who contributed to classical music. Fariborz Lachini has scored more than one hundred twenty motion picture projects. He is recognized as one of the most innovative composing talents in the Middle-East and has scored for internationally-acclaimed Iranian filmmakers. One of his most recent works is Iraq's choice for Oscars 2006, Requiem of Snow. Variety wrote of the soundtrack: "...Fariborz Lachini's mournful acoustic music leaves a haunting aural residue in pic's wake." As more and more artistic Iranian films are being featured in festivals around the globe, Fariborz Lachini's reputation grows as a leading composer of memorable heartfelt melodies and cinematic musical themes, breaking down cultural borders.