There are no products in your shopping cart.
Tatuajes en el corazon: El poder de la compasión sin límite (Paperback)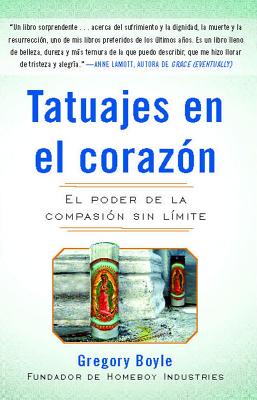 $16.99
We Can Order This For You
Description
---
¿Cómo luchar contra la desesperanza e interactuar con el mundo con un corazón bondadoso? ¿Cómo superar la vergüenza y tener fe a pesar del fracaso? Sin importar en dónde vivamos o cuáles sean nuestras circunstancias, todos necesitamos un amor ilimitado y restaurador. Magnífico y reconfortante, Tatuajes en el corazón demuestra ampliamente el impacto que puede tener el amor incondicional en nuestras vidas.

En su condición de párroco que trabaja en el vecindario con la mayor concentración de actividad pandillera y criminal en Los Ángeles, Gregory Boyle ha creado una organización para ofrecer empleos, capacitación laboral y estímulos para que los jóvenes puedan trabajar juntos y aprender el respeto mutuo proveniente de la colaboración. Tatuajes en el corazón es una impresionante serie de parábolas producto de sus experiencias con personas del barrio durante las dos últimas décadas. Clasificados por temas y llenos de humor fresco y generosidad abundante, estos ensayos nos ofrecen una visión conmovedora sobre la forma tan plena en que podemos vivir nuestras vidas si encontramos la alegría en amar a los demás y en ser amados incondicionalmente. De César, el joven enorme y lleno de tatuajes haciendo compras en JCPenney recién salido de la prisión, aprendemos a sentirnos dignos del amor de Dios. De Lula, el chico de diez años, aprendemos la importancia de ser conocidos y aceptados. De Pedro, entendemos el tipo de paciencia necesaria para rescatar a alguien de la oscuridad. En cada capítulo recibimos el regalo de la sabiduría maravillosa y duramente lograda por Boyle.

Estos ensayos eruditos, realistas y completamente alentadores que discurren sobre la hermandad y la redención, son ejemplos reconfortantes del poder que tiene el amor incondicional en los tiempos difíciles y de la importancia absoluta de luchar contra la desesperanza. Gracias a la orientación de Gregory Boyle, podemos reconocer nuestras propias heridas en las vidas fracturadas y en las luchas descomunales de los hombres y las mujeres que figuran en estas parábolas, para aprender a encontrar la alegría en todas las personas que hay a nuestro alrededor. Tatuajes en el corazón nos hace recordar que ninguna vida vale menos que otra.
About the Author
---
Gregory Boyle is the founder of Homeboy Industries in Los Angeles, CA. Now in its 30th year, Homeboy traces its roots to when Boyle, a Jesuit priest with advanced degrees in English and theology, served as pastor of Dolores Mission Church, then the poorest Catholic parish in Los Angeles, which also had the highest concentration of gang activity in the city. Homeboy has become the largest gang-intervention, rehabilitation, and reentry program in the world, and employs and trains gang members and felons in a range of social enterprises, as well as provides critical services to thousands of men and women each year who walk through its doors seeking a better life. Father Boyle has received the California Peace Prize, the James Beard Foundation Humanitarian of the Year Award, and the University of Notre Dame's Laetare Medal. He was inducted into the California Hall of Fame and named a 2014 Champion of Change by the White House. He is also the author of the New York Times bestseller Tattoos on the Heart: The Power of Boundless Compassion.
Praise For…
---
"Un libro sorprendente . . . acerca del sufrimiento y la dignidad, la muerte y la
resurrección, uno de mis libros preferidos de los últimos años. Es un libro lleno
de belleza, dureza y más ternura de la que puedo describir, que me hizo llorar
de tristeza y alegría." —ANNE LAMOTT, AUTORA DE GRACE (EVENTUALLY)