French Vocal Literature: Repertoire in Context (Paperback)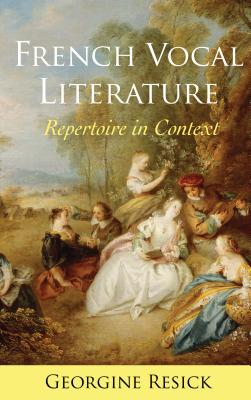 This item is not available.
Description
---
French Vocal Literature: Repertoire in Context introduces singers to the history and performance concerns of a vast body of French songs from the twelfth century to the present, focusing on works for solo voice or small vocal ensembles with piano or organ accompaniment, suitable for recitals, concerts, and church performances. Georgine Resick presents vocal repertoire within the context of trends and movements of other artistic disciplines, such as poetry, literature, dance, painting, and decorative arts, as well as political and social currents pertinent to musical evolution. Developments in French style and genre--and comparisons among individual composers and national styles--are traced through a network of musical influence. French Vocal Literature is ideally suited for voice teachers and coaches as well as student and professional performers. The companion website, frenchvocalliterature.com, provides publication information, a discography, links to online recordings and scores, a chronology of events pertinent to music, a genealogy of royal dynasties, and a list of governmental regimes.
About the Author
---
Georgine Resick has taught French vocal literature, diction, and performance techniques for more than twenty years. She has sung operatic roles with prominent international opera companies and orchestras and has received numerous teaching awards, performing awards, and grants. Ms. Resick champions unknown and neglected song literature and has recorded eight solo CDS in numerous languages. Her DVD of Schoenberg's Pierrot lunaire was released in 2015.