Cher Journal: Nuit Fatale (Hardcover)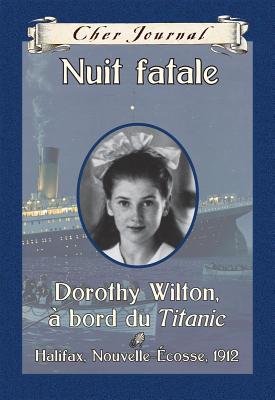 Description
---
See below for English description.
Dorothy Wilson a surv cu au naufrage du
Titanic
, mais elle est hant e par le souvenir des autres passagers, et surtout de la personne avec qui elle voyageait, et avec qui elle s'est disput e la nuit du drame.
Dorothy Wilton survives the sinking of the Titanic, but is haunted by memories of what happened to the other passengers, in particular the person she was travelling with -- and fought withthe night before the ship went down.
Original title: Dear Canada: That Fatal Night
About the Author
---
Sarah Ellis a ?t? biblioth?caire, critique litt?raire, chroniqueuse, conteuse, enseignante de litt?rature jeunesse et auteure laur?ate de livres d'enfants. Elle a grandi dans une famille o? l'on aimait lire et se raconter des histoires. Bien qu'elle n'ait pas envisag? la carri?re d'auteurs ? l'?poque, son amour de la lecture l'a men?e ? ?tudier la biblioth?conomie et, plus tard, la litt?rature de jeunesse, ? l'Universit? de la Colombie-Britannique et au Simmons College. Sarah a ?crit plusieurs romans pour les jeunes adultes, dont Une terre immense ? conqu?rir, un livre de la collection Cher Journal, paru aux ?ditions Scholastic. Sarah Ellis has written many children's books, including Pick-Up Sticks, winner of the Governor General's Literary Award, Odd Man Out, which won the TD Canadian Children's Literature Award, and The Baby Project, which won the Sheila A. Egoff Children's Book Prize. In 1995 Sarah was honoured with the Vicky Metcalf Award for her outstanding body of work. In addition to her own writing, Sarah is on the faculty of the Vermont College of Fine Arts and reviews children's literature for Quill & Quire and The Hornbook. Sarah's mother grew up in small-town Saskatchewan, and her stories of her childhood inspired Sarah to write A Prairie as Wide as the Sea. While doing research for the book, Sarah was surprised to discover a letter in a 1927 newspaper that her mother had written. Sarah's mother had died decades earlier, so finding this letter from her mother, then a girl herself, was "a gift." Another gift is that in researching and writing three Dear Canada titles, Sarah has become more alert to all the stories our country has to offer. Sarah lives in Vancouver, British Columbia.