Rabbit Foot Bill: A Novel (Hardcover)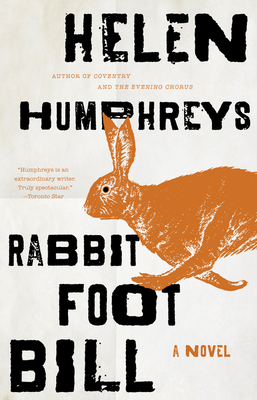 Description
---
A lonely boy in a prairie town befriends a local outsider in 1947 and then witnesses a shocking murder. Based on a true story.
Canwood, Saskatchewan, 1947. Leonard Flint, a lonely boy in a small farming town befriends the local outsider, a man known as Rabbit Foot Bill. Bill doesn't talk much, but he allows Leonard to accompany him as he sets rabbit snares and to visit his small, secluded dwelling. 
Being with Bill is everything to young Leonard—an escape from school, bullies and a hard father. So his shock is absolute when he witnesses Bill commit a sudden violent act and loses him to prison.
Fifteen years on, as a newly graduated doctor of psychiatry, Leonard arrives at the Weyburn Mental Hospital, both excited and intimidated by the massive institution known for its experimental LSD trials. To Leonard's great surprise, at the Weyburn he is reunited with Bill and soon becomes fixated on discovering what happened on that fateful day in 1947.
Based on a true story, this page-turning novel from a master stylist examines the frailty and resilience of the human mind.
About the Author
---
HELEN HUMPHREYS is an acclaimed and award-winning author of fiction, non-fiction and poetry. She has won the Rogers Writers' Trust Fiction Prize, a Lambda Literary Award for Fiction and the Toronto Book Award. She has also been a finalist for the Governor General's Literary Award for Fiction, the Trillium Book Award and CBC's Canada Reads. Her most recent work includes the novel Rabbit Foot Bill and the memoir And a Dog Called Fig. The recipient of the Harbourfront Festival Prize for literary excellence, Helen Humphreys lives in Kingston, Ontario. 
Praise For…
---
"A finely rendered story about people trying to find inner peace after their worlds have been turned upside down. Both shocking and tender, Rabbit Foot Bill is a riveting tale, full of compassion and told without judgement."  — Governor General's Award winning author Dianne Warren 
A NOW MAGAZINE BEST BOOK OF THE YEAR —
"One of the best — and most wonderfully experimental — historical fiction titles of the year. . . . Humphreys is an extraordinary writer. Truly spectacular." — Toronto Star
"This gem of a novel is as unique as the woman who inspired it. . . . A transcendent life-honouring work." — Postmedia
"[Humphreys'] impressive ability to tell a story through the ordinary actions of her characters makes reading Machine Without Horses an effortless pleasure." — Winnipeg Free Press
"Machine Without Horses is so good, so powerful, that I cannot imagine reading the likes again." — Owen Sound Sun-Times