802.11n: A Survival Guide: Wi-Fi Above 100 Mbps (Paperback)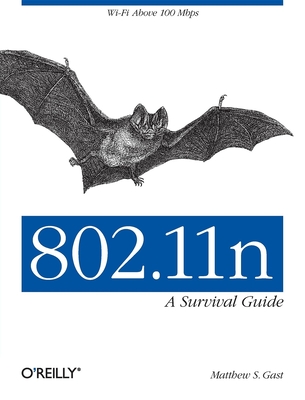 $19.99

Usually arrives at our store within 4-7 days
Description
---
Wireless has finally come of age. With a significant jump in throughput over previous standards, 802.11n is the first wireless technology that doesn't trade speed for mobility, and users have stormed onto wireless networks with a passion. In this concise guide, Matthew Gast--chair of the IEEE group that produced revision 802.11-2012--shows you why wireless has become the default method of connecting to a network, and provides technical details you need to plan, design, and deploy 802.11n today.
Building a network for the multitude of new devices is now a strategic decision for network engineers everywhere. This book gives you an in-depth look at key parts of 802.11n, and shows you how to achieve an Ethernet-free wireless office.
Learn how MIMO's multiple data streams greatly increase wireless speed
Discover how 802.11n modifications improve MAC efficiency
Examine advanced PHY features such as beanforming and space-time code block
Use advanced MAC features to maintain interoperability with older devices
Plan an 802.11n network by determining traffic demand, key applications, power requirements, and security
Choose the architecture, select hardware, and plan coverage to design and build your network
About the Author
---
Matthew Gast works in the Office of the CTO at Trapeze Networks, where he leads the development of open wireless network standards and their application to the Trapeze architecture. He is a member of the IEEE 802.11 working group, and serves as chair of 802.11 Task Group M. As chair of the Wi-Fi Alliance's Wireless Network Management marketing task group, he is leading the investigation of certification requirements for power saving, performance optimization, and location and timing services. Matthew also chairs the Security Technical task group, which is extending Wi-Fi protected Access (WPA) certification to incorporate newly-developed security mechanisms so that it remains the strongest form of protection available for Wi-Fi networking. In 2007, Matthew was a founder of the OpenSEA Alliance, a group organized to support the development of open-source network security solutions. He currently serves on the engineering steering committee, the organization's board of directors, and as its corporate secretary. Matthew's most recent book, 802.11 Wireless Networks: The Definitive Guide (O'Reilly Media), now in its second edition, is the top selling reference work in the field and has been translated into six languages.