The Complete Far Side (Paperback)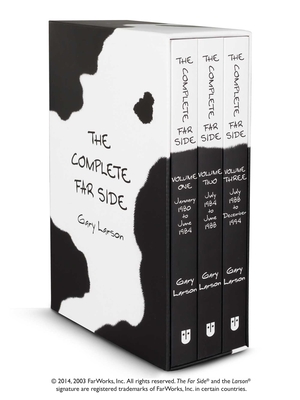 Description
---
The Far Side® is back in this much-anticipated three-volume slipcased paperback edition of The Complete Far Side!

"Every one of these cartoons is just something that drifted into my head when I was alone with my thoughts. And, for better or worse, I 'jotted' them down. It was only later, when perhaps I received an angry letter from someone, that it struck me: Hey! Someone's been reading my diary!" --Gary Larson, from the preface to The Complete Far Side

Originally published in hardcover in 2003, The Complete Far Side was a New York Times bestseller. Now it's back as a paperback set with a newly designed slipcase that will delight Far Side fans.

Revered by its fans as the funniest, most original, most "What the ... ?"-inspiring cartoon ever, The Far Side® debuted in January 1980 and enjoyed an illustrious 14 years on the world's comics pages until Gary Larson's retirement in 1994. The Complete Far Side celebrates Larson's twisted, irreverent genius in this ultimate Far Side book.

A masterpiece of comic brilliance, The Complete Far Side contains every Far Side cartoon ever syndicated--over 4,000 if you must know--presented in (more or less) chronological order by year of publication, with more than 1,100 that had never before appeared in a book. Also included are additional Far Side cartoons Larson created after his retirement: 13 that appeared in the last Far Side book, Last Chapter and Worse, and six cartoons that periodically ran as a special feature in the New York Times Science Times section as The Far Side® of Science. Creator Gary Larson offers a rare glimpse into the mind of The Far Side® in quirky and thoughtful introductions to each of the 14 chapters. Complaint letters, fan letters, and queries from puzzled readers appear alongside some of the more provocative or elusive panels. Actor, author, and comedian Steve Martin offers his sagacious thoughts in a foreword, and Larson's former editor describes what it was like to be "the guy who could explain every Far Side cartoon."

During its 14-year run, The Far Side® was syndicated internationally to over 1,900 daily newspapers. It spawned 23 books and has been translated into 17 different languages.

Copyright © 2014, 2003 FarWorks, Inc. All rights reserved.
The Far Side®, FarWorks, Inc.®, and the Larson® signature are registered trademarks of FarWorks, Inc. in certain countries.
About the Author
---
Gary Larson was born August 14, 1950, in Tacoma, Washington. Always drawn to nature, he and his older brother spent much of their youth exploring the woods and swamps of the Pacific Northwest, and the tidelands and waters of Puget Sound.

Though he loved to draw as a child, Larson didn't formally study art, nor did he consider being a cartoonist. He graduated in 1972 from Washington State University with a degree in communications but took many classes in the sciences. In 1990, Larson received the Regents' Distinguished Alumnus Award and was the centennial commencement speaker. His talk was titled "The Importance of Being Weird." His interest in science was a frequent topic in many of The Far Side® cartoons, which he created for fifteen years, from January 1, 1980, to January 1, 1995.

Larson's work on The Far Side® has earned him numerous awards, including the Reuben Award for Outstanding Cartoonist of the Year from the National Cartoonists Society in 1990 and 1994. The National Cartoonists Society also named Larson Best Syndicated Panel Cartoonist in both 1985 and 1988. In 1993, The Far Side® was awarded the Max and Moritz Award for Best International Comic Strip/Panel by the International Comic Salon.

In 1994, Larson debuted a twenty-two-minute version of his first animated film, Gary Larson's Tales From The Far Side®, as a Halloween special on CBS television, and it quickly became a cult favorite. The film won the Grand Prix at the 1995 Annecy International Animated Film Festival in France. That film and its sequel, Gary Larson's Tales From The Far Side® II, were selected for numerous international film festivals, including Venice, Brussels, and Telluride, and were broadcast in various foreign countries. Both were produced with traditional cel animation, completely hand-inked and painted.

Music has also been an important part of Larson's life. He started playing the guitar at an early age, moved to the banjo for a few years, and then ultimately returned to the guitar. Since retiring from daily newspaper syndication, Larson has focused his creative efforts on the guitar and his passion for jazz.

At the end of its run, The Far Side® appeared in nearly two thousand newspapers. It in turn spawned twenty-three The Far Side® books, including sixteen collections, five anthologies, and two retrospectives, twenty-two of which appeared on the New York Times Best Sellers list. Over the years, more than forty-one million books and seventy-nine million calendars have been sold, and The Far Side® has been translated into more than seventeen languages.

As for his inspiration, Larson often cites his family's "morbid sense of humor" growing up and how his older brother loved to scare him whenever he got the chance. He was also once quoted as saying, "You know those little snow globes that you shake up? I always thought my brain was sort of like that. You know, where you just give it a shake and watch what comes out and shake it again." He attributes much of his success to the caffeine in the coffee he drinks daily.