A Fly Rod of Your Own (John Gierach's Fly-fishing Library) (Paperback)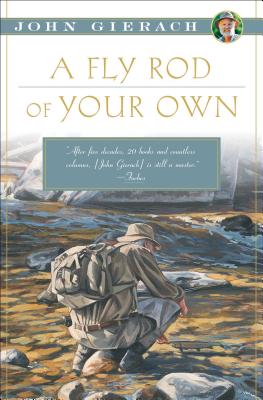 Description
---
"After five decades, twenty books, and countless columns, [John Gierach] is still a master," (Forbes) and his newest book only confirms this assessment, along with his recent induction into the Flyfishing Hall of Fame. In A Fly Rod of Your Own, Gierach brings his ever-sharp sense of humor and keen eye for observation to the fishing life and, for that matter, life in general.

Known for his witty, trenchant observations about fly-fishing, Gierach's "deceptively laconic prose masks an accomplished storyteller…his alert and slightly off-kilter observations place him in the general neighborhood of Mark Twain and James Thurber" (Publishers Weekly). A Fly Rod of Your Own transports readers to streams and rivers from Maine to Montana, and as always, Gierach's fishing trips become the inspiration for his pointed observations on everything from the psychology of fishing ("Fishing is still an oddly passive-aggressive business that depends on the prey being the aggressor"); why even the most veteran fisherman will muff his cast whenever he's being filmed or photographed; the inevitable accumulation of more gear than one could ever need ("Nature abhors an empty pocket. So does the tackle industry"); or the qualities shared by the best guides ("the generosity of a teacher, the craftiness of a psychiatrist, and the enthusiasm of a cheerleader with a kind of Vulcan detachment").

As Gierach likes to say, "fly-fishing is a continuous process that you learn to love for its own sake. Those who fish already get it, and those who don't couldn't care less, so don't waste your breath on someone who doesn't fish." A Fly Rod of Your Own is an ode to those who fish that "brings a skeptical, wry voice to the peril and promise of twenty-first-century fishing" (Booklist).
About the Author
---
John Gierach is the author of more than twenty books about fly-fishing. His writing has appeared in Field & Stream, Gray's Sporting Journal, and Fly Rod & Reel. He writes a column for Trout magazine and the monthly Redstone Review. He lives in Lyons, Colorado.
Praise For…
---
"A must-read for restless fly-fishermen."
— The Wall Street Journal

"John Gierach is the American Turgenev, that is, if Turgenev had a sense of humor, fished like Lee Wulff, and was as wise as Marcus Aurelius. This means that no one is in Gierach's league when it comes to writing about trout fishing. A Fly Rod Of Your Own makes you feel you are having a beer with your best friend who is not only funny, companionable, but just great to hang out with. When it comes to fly fishing, Gierach is like a sex therapist. He has seen it all."
— Craig Nova, author of All the Dead Yale Men and The Constant Heart

"After five decades, 20 books and countless columns, [John Gierach] is still a master."
— Monte Burke

"Gierach's deceptively laconic prose masks an accomplished storyteller. . . . His alert and slightly off-kilter observations place him in the general neighborhood of Mark Twain and James Thurber."
— Publishers Weekly

"In penning a recent tribute to a departed giant and fishing friend, Jim Harrison, I found that no one had better anticipated and articulated that loss than Jim himself. Gierach puts me in a similar position. Since no one writes of our sport more pleasingly, why not let John tell us what we love about it? 'We go into wild places to catch wild fish for personal reasons that may be complicated or as simple as the urge to escape the present—which admittedly looks none too promising—into, if not the actual past, at least into a kind of timelessness where life still makes sense.' Amen, and thanks for a lifetime of pleasure and sense."
— David James Duncan, author of The River Why and The Brothers K

"After 20 books on fly-fishing, you'd think John Gierach would run out of ways to say Me Fool Fish. But dive into A Fly Rod of Your Own and you'll find not just a host of enjoyably fresh takes on this magnificent obsession, but a fresh understanding of why Gierach is the bestselling fish-writer since Izaak Walton."
— James R. Babb, author of Fish Won't Let Me Sleep

"John Gierach is the patron saint of American fly-fishing. When days go extremely well on the river I think of Gierach. When days go extremely badly I think of Gierach."
— C.J. Box, #1 New York Times Bestselling Author of Off the Grid

"Informs, inspires, and entertains. . . . Gierach brings a skeptical, wry voice to the peril and promise of twenty-first-century fishing."
— Booklist